"Do you know where our passports are?" my husband asked, sounding slightly panicked over the phone.
I was away on a business trip, but we were moving to Portugal in a few weeks so I had put all the paperwork for the move, including our passports, together in a box. I told him this, and he said he would go look. A few minutes later, he called back. The passports weren't in the box; in fact, they were in the dog's bed. Chewed up.
Just another part of the excitement of our great adventure moving our family (me, my husband, and our 11-year-old son) to Portugal.
But let me start at the beginning.
My husband and I are traveling fools. Our mutual wanderlust has brought us to Australia, Mexico, Costa Rica, Panama, Ecuador, Colombia, and Europe, and we even spent three months driving around the United States and camping in as many national parks as we could.
People thought that we would slow down when we had our son, but we just strapped him in a backpack and continued our adventures. That kid has more stamps in his passport than most adults!
This wanderlust has had us dreaming of moving overseas for as long as we've been together, but something always held us back. Mostly we were afraid. We had good jobs, a beautiful house on a lake, a boat, and great friends. Giving all that up was terrifying.
Then, in 2015, we got our wake-up call… multiple wake-up calls, actually.
What Pushed Us To Move Abroad
One of my closest friends passed away at the age of 42 from breast cancer, leaving behind her husband and two young boys. Shortly after she passed, I caught whooping cough. It was a miserable six months of being sick, but, worse than that, all the blood tests that I had to take while I was sick uncovered two very scary health issues of my own. It made me take a long, hard look at my life.
I realized that my great job had me traveling about 40% of the time, taking me away from my husband and son. There are so many things that I missed—my son's first play (he sang a solo), parent-teacher conferences, soccer playoffs, even my wedding anniversary one year!
I wanted more time with the people I loved. We decided that it was now or never.
With the decision made, we put our house on the market and started planning.
We always thought that we would move to Central or South America, mostly because those places are short flights from our families in California, and we are comfortable with speaking Spanish. But we wanted to make sure we landed in the right place. We had very specific needs that included:
Good schools for our son…
Low cost of living…
Great weather…
Near the beach…
Entrepreneurial opportunities (real estate or other)…
We were considering Panama, Ecuador, Costa Rica, and Colombia. They are all great, but each place was missing at least one of our requirements. The cost of living in Panama and Costa Rica is going up, the areas in Ecuador we liked didn't have good schools, and the area in Colombia we liked was far from the beach.
Discovering The Algarve, Portugal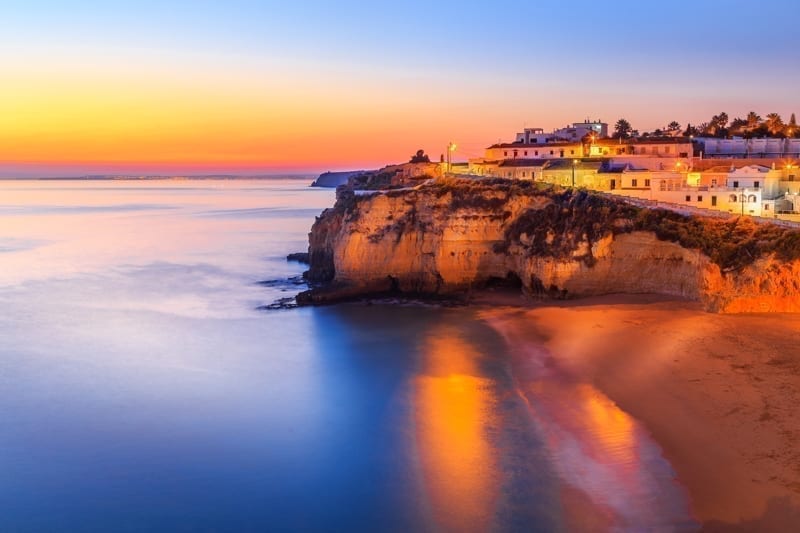 Then we read about the Algarve region of Portugal in one of our Live and Invest Overseas newsletters. It sounded perfect.
We planned a scouting trip and toured the Algarve from east to west. When we got to Lagos, we fell in love.
Everything about the Algarve exceeded our expectations. The cost of everything was insanely inexpensive, the weather was beautiful, and the beaches were stunning. We found an amazing international school in Burgau, just a few miles from Lagos.
And, of course, we were in Europe! There was so much opportunity to travel around Portugal and different European countries just by hopping on a train.
We had found our new home.
We returned to California and had an offer on our house. We sold almost everything else we owned either on eBay or at yard sales. We found a six-month rental in Lagos, packed everything we had left into 11 suitcases, and made the move on Dec. 28, 2015.
Our New Life In Portugal: The Algarve
This adventure has been everything we've dreamed of and more.
For us, one of the most important elements of this move was to give our son an international perspective… to show him that there is more to the world than our little corner of Southern California. He is now in school with kids from all over the world, including the U.K., Australia, Brazil, Spain, China, and more, and he loves it. He is taking classes that were never offered in the United States, and he gets a lot more individual attention because the class sizes are smaller.
Because we moved in the middle of winter, we have experienced the "worst" of the weather here. Generally, temperatures have been hovering in the 60s, and there have been many days with rain. However, we have never been miserably cold, and the rain doesn't tend to be an all-day event. It rains and then the sun comes back out and it's gorgeous again. And, of course, everything is so green and beautiful that we don't really mind the rain.
Making A Living Overseas
A lot of people have asked us how we're making a living.
My husband works from home for his company in California. His office hours are from about 3 p.m. until midnight. There is great internet access, and more and more companies are comfortable with remote employees.
My position as a marketing director for an international education company was downsized just prior to our move. While that was a stressful turn of events, we always meant to start our own business once we were here. I have used my free time to get the lay of the land and to begin devising a business plan.
I have met a lot of great people and I'm working with an attorney on a company called Portugal Projects, a one-stop shop that provides information on fully vetted resources like contractors, interior designers, pool builders, and even gardeners and cleaning services. I'm also contracting for some U.S. companies, helping them with online marketing.
The amazingly low cost of living has made a big difference in our ability to just up and move with just one full-time income. At the current exchange rate, our rent works out to US$1,000 a month for a four-bedroom, three-bathroom house with a yard and a pool. Our groceries end up being about US$400 a month. Our car insurance is US$200 for the year, and full coverage private health insurance for the three of us is US$2,000 for the year.
A lovely dinner out with appetizers, wine, delicious seafood, and dessert never runs more than about US$30 total for the family.
How Our Life Has Changed Since Moving
From the start, we have looked at this as a big adventure. There have been bumps in the road, like me losing my job, a snag with residency paperwork that has since been ironed out, and, of course, the dog eating our passports. But these challenges never dissuaded us, and we've loved every minute of the adventure.
In California we were always in a hurry, always rushing. We never seemed to have time to just enjoy life and each other. We now spend our mornings exploring the town or having a meia de leite (espresso with milk) on the beach. We take Portuguese lessons twice a week. We have family dinner every night, which we never had time for back in the States.
Better yet, our son is spending more and more time outside and less and less time on his electronic gadgets. The kids here seem to be in less of a hurry to grow up, and are happy just to be kids and play in the yard or at the beach.
For anyone looking for a more laid-back lifestyle, and especially for families with kids, I would highly recommend taking a look at Portugal as an option. The back-to-basics lifestyle has given us exactly what we wanted… time together as a family! And that's life in Portugal.
Stephanie Calcott
Full-Time Portugal Expat