Where could you retire overseas that is diverse… meaning lifestyle options from mountains and rain forests to Caribbean and Pacific coasts…
Affordable… accommodating a rich, rewarding life on US$1,400 per month or less…
Familiar… while boasting world-famous culture and cuisine…
And easy to access… meaning you could come and go no plane ticket required?
This country stands out for the would-be retiree overseas for many reasons… including:
#1: Mexico is the closest retirement haven abroad.
If you hate long flights or don't want to stray too far from friends and family, Mexico is easily the best option for living abroad.
You can even drive here from the United States or Canada…
No worries about overweight bags, luggage limitations, airport security lines, or expensive airfare. Even pets are a breeze.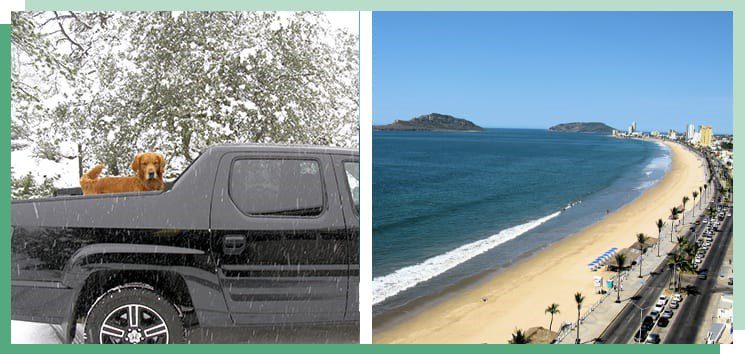 Expats can escape winter simply by loading up the car and driving to their beachfront home in Mexico…
In some parts of Mexico, you don't even need a vehicle permit to bring your car or truck. Where you do need one, you can get the permit and the insurance online before you leave and just drive right through.
Of course, if you'd rather fly, quick and direct flights are available throughout the States and Canada.
Plus, if you're an American over 65, this proximity means that you can simply drive or fly north to use Medicare.
Of course, you can always stay put for local, quality medical care at a fraction of the price.
#2: Mexico is familiar.
In many areas we suggest here, you'll have to look closely to realize you're not in California or Texas.
Mexico's familiarity shows up in many small ways… like eating Mexican and TexMex food… or seeing full-sized, V8 American SUVs and pickups on the road… or even seeing the cattle ranchers with Arizona-style cowboy hats and belt buckles.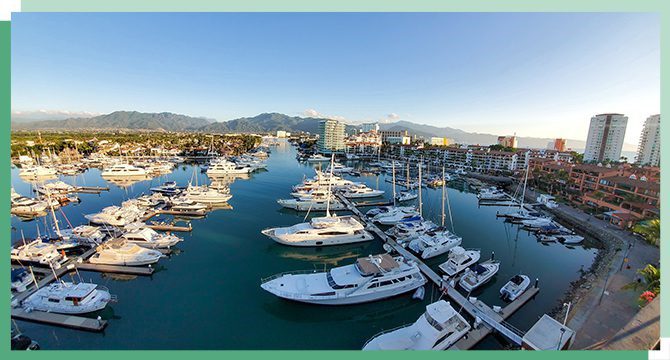 Mexico is no backwater… and many towns might remind you of the nicest places in North America—but at a much more affordable cost…
There's a lot of American influence in Mexico, and a lot of Mexican influence north of the border, which gives Mexico a very familiar feel.
But Mexico also has a rich culture that we aren't that familiar with… a colorful history, fascinating traditions, fiestas, arts and artisans, music, and dance.
Unlike most places abroad, you're unlikely to experience culture shock in Mexico.
#3: Residency is easy and quick.
If you want to become a resident of Mexico, the process is quick and easy… both for temporary and permanent residents. As for many countries, you can use income to qualify, including a pension or Social Security.
But what's really unusual is that you can qualify for residency in Mexico with savings, such as a 401k or IRA balance.
Best of all, your visa paperwork won't require a notary seal, apostille, or translation, as it does in most countries. Just bring your English pay stubs to the consulate and be on your way…
#4 You can stay six months visa-free.
If you don't want to fuss with residency at all, you can get a six-month tourist entry by just driving over the border.
If part-year living is what you have in mind (or operating a vacation rental), then the six-month tourist entry can do the trick.
And if your six-month visa runs out? You can simply drive to the border, and get another six months when you cross back over… legally.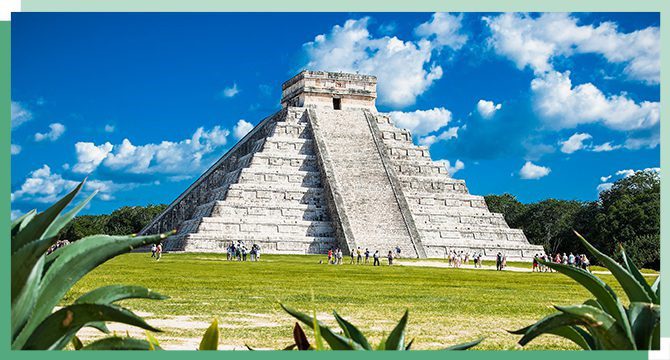 Along with most of the world's Spanish-colonial towns, you'll find hundreds of Mayan and Aztec ruins—it's enough history to spend a lifetime exploring…
#5: The dollar is near an all-time high versus the Mexican peso.
While inflation eats into your savings in the United States, the dollar has enjoyed historic highs against the Mexican peso over the past couple of years.
The cost of living was already low, and now you can compound that advantage with this "currency discount."
Many foreigner-focused property markets sell in U.S. dollars, but rents and any real estate priced in pesos are at bargain levels.
Take a look at the chart below: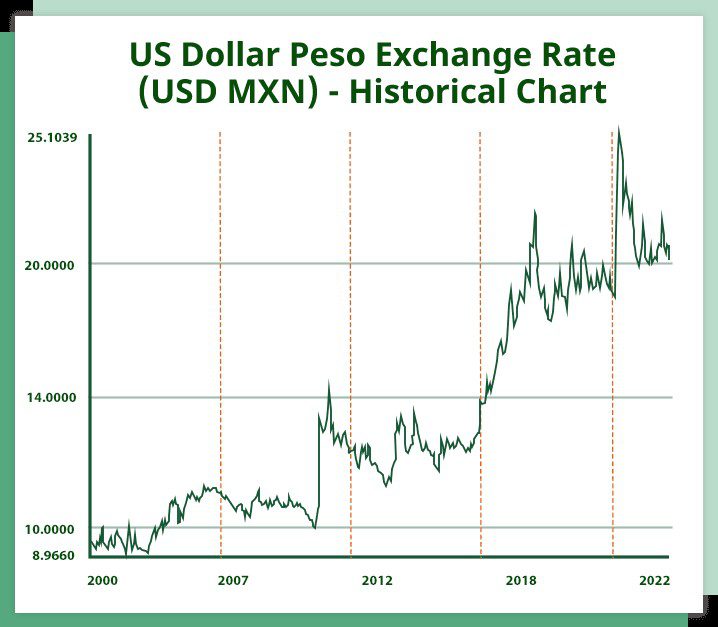 And Americans aren't the only ones to benefit—Canadians likewise enjoy a historic advantage here:

#6: Mexico has the best food in Latin America.
Sure, you could argue this…
But ask me and I'll tell you to forget beans-and-rice, eating guinea pigs, or the bland-and-boring food that you'll find in much of Central and South America.
Argentina and Brazil both have an argument for top spot here, but outside of those two countries, there's no contest.
Mexican food is rich and savory with loads of exciting options. From its new, upscale Mexican gourmet dining to its mouthwatering seafood, from spicy salsas to tamales, tacos, and enchiladas… Mexico can't be beat.
In fact, the New York Times recently reported that "New Mexican" cuisine is catching on at high-end restaurants the world over.
#7: It can be incredibly cheap to live here.
Even before the recent historic strength of the euro and American and Canadian dollars, Mexico was famous for its low cost of living…
Tomorrow, I'll break it down for you, with a real budget from our man-on-the-ground.
#8: Plenty of English-speaking service providers.
In many countries it's hard to find English-speaking lawyers, doctors, dentists, or even restaurant workers.
Not in Mexico. Here, you'll find plenty of English-speaking professionals, service providers, and residents throughout much of the country.
Make no mistake, you'll do better in Spanish… but if you don't speak Spanish, you can still get by in plenty of areas.
I've spent many tens of thousands of dollars moving from place to place in the world—from the States to Ireland, from Ireland to France, and from France to Panama—thanks to shipping and customs.
Mexico is one of the world's few expat locations where it's practical to just pack up and drive.
And even if you use a mover, your things are going quickly by land, rather than spending months in a sea container.
To boot, Mexico offers new residents duty-free importation of household effects… a savings of potentially thousands of dollars.
#10: Mexico has many of the conveniences of home.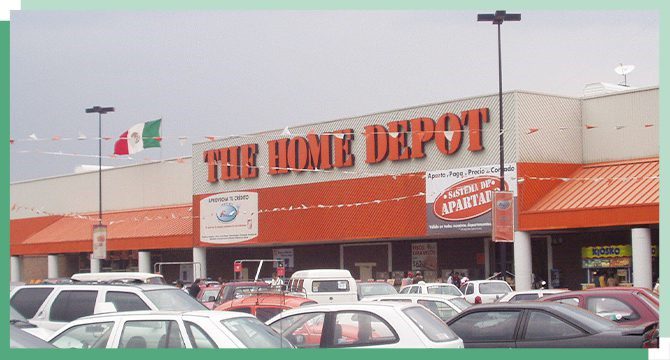 If you're a North American, familiar products and stores means you can get settled in Mexico much faster than nearly anywhere else in the world…
In Mexico, you can buy almost anything you're accustomed to having back home, from your favorite peanut butter to your favorite automobile.
It's reassuring to know exactly what you're going to get at a Home Depot, Walmart, or even a Wendy's.
Home Depot? Walmart? Not the "real" Mexico, you say?
I don't buy that argument. The fact that we share a lot of common ground doesn't make Mexico any less "real."
After all, Canada has Home Depot, Walmart, and Wendy's, too—it's still the "real Canada."
Sincerely,



Kathleen Peddicord
Founding Publisher, Overseas Opportunity Letter