Not sure where to retire? Consider living on a sailboat and seeing the world instead of settling in one place.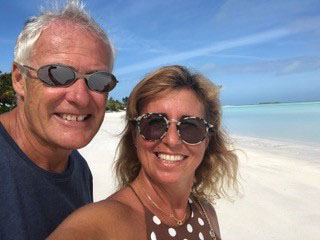 My wife Carla and I retired nearly three years ago and did just that. We've now sailed 24,000 miles and visited 47 countries, not to mention hundreds of islands and cayes. It's been a spectacle of powdery pink beaches, sparkling waters, ancient temples, and sunsets to die for.
Here's a look at the pros and cons, the cost, and the experience level needed to live in retirement afloat…
Aren't Sailboats Small?
Boats come in all shapes and sizes. Some are more suited to living on than others. Just because you're thinking about living on a boat doesn't mean you have to live on a sailboat. People live on motorboats, barges, and trawlers, too. Locations vary from rivers, canals, coastal lagoons, and, of course, the ocean itself.
The standard monohull sailboat can admittedly be somewhat cramped inside, but if you choose a modern 45-foot boat you'll have more room than the average dancefloor at a wedding. If you were to go for a 40-foot-plus catamaran, you'll have more real estate than you know what to do with.
We have a 40-foot cat, built in France by Lagoon, with two double bedrooms and a bathroom on the portside, perfect for visitors, and an apartment on the starboard side just for us. We have an open-plan kitchen saloon, outside eating areas, and places to lounge in the sun. We also have the ocean to swim in. It's bigger and better than your average studio apartment.
We have fridges, freezers, ovens, a food mixer, a washing machine, hot showers, and an ice maker onboard. Central heating, dehumidifiers, and air conditioning are all possible, too, and you can run everything from energy you collect from the sun and the wind. It's a sustainable and self-sufficient way of life… With the wind to move your floating home, you can reduce your carbon footprint to next to nothing.
How Much Will A Boat Cost?
You could buy a 12-year-old, modern, 40-foot monohull for as little as US$120,000, which would be more than big enough for a couple. You can get a 10-year-old 40-foot catamaran for around double that figure.
You'll need to spend some additional money to bring the boat up to date with modern electrical systems, a water maker, and navigation equipment. But for under US$300,000 for the cat or US$150,000 for the monohull, you have both a home and a means of going anywhere you like.
Isn't Sailing Difficult And Dangerous?
We weren't that experienced when we started our adventure… My longest sail was from the south coast of the U.K. to the north of France, which was about 20 hours. Carla had never sailed before. But slowly we extended the length of our sails and within 10 months we were ready to take on the Atlantic Ocean.
There's an art to sailing, being comfortable with your surroundings at sea, the wind and tides, harbors and marinas. But there are lots of sailing programs around the world to help you with the training—a rewarding holiday in and of itself. Before you know it, you'll be off on a week's charter in the Mediterranean and never look back.
Like any adventure sport, sailing can be dangerous, but there are ways to minimize the risk. Having modern safety equipment onboard is essential. Your crew should wear a modern life vest with GPS and radio trackers. These systems will send an automatic alert to the coastguard as well as the boat, if one were to fall into the water.
Satellite phones are readily available and allow you to make an emergency call for help from anywhere in the world. Many come with a system where the unit will send out an electronic "ping," allowing your vessel to be tracked at all times by family and friends alike.
With the latest electronics, weather routers, and safety equipment, sailing the open ocean is safer than it's ever been.
How Much Should You Budget For A Year?
We have sailed extensively around the Caribbean, from Venezuela to Cuba and the Bahamas and from Panama to Barbados. We've also sailed the Mediterranean, starting our journey in Croatia, traveling through Greece, and westward through the blue waters of the Mediterranean Sea to Gibraltar.
The cost of living varies from location to location. The Caymans, Bermuda, and the Bahamas are the most expensive cruising grounds. Panama, Cuba, and Venezuela are far cheaper. France and Italy are the most expensive areas in the Med, while Portugal, Morocco, Tunisia, Greece, and Turkey are more wallet friendly.
We budget around US$1,200 per month. For that we buy all our food and alcohol and eat out once or twice a week. We stay in a marina a couple of times a month, too. The rest of the time we stay on the anchor in some idyllic bay, having sundowners with fellow boaters and watching the sun sink into the ocean.
Where Are The Best Sailing Grounds?
Most sailing grounds are seasonal. Winter months in the Mediterranean are from October to March. We're currently anchored on the south coast of Portugal, where the temperature rarely dips under 55℉. We do get a few days a month with a blow, but for Europe, the weather is remarkable.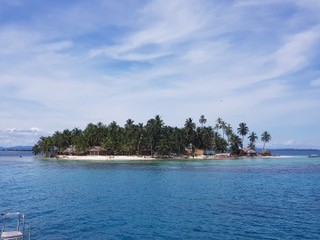 Hurricane season in the Caribbean is from June to October, but you can easily head south to the Venezuela coast or the Dutch islands of Aruba, Bonaire, or Curacao for protection. These areas are rarely visited by the late summer storms that affect the central region of the Caribbean.
The more adventurous could sail on to the San Blas Islands of Panama or Bocas del Toro. Either way, there's plenty of shelter and things to keep you occupied during storm season.
Each region offers stunning sailing, blue waters, and out-of-this-world beaches. The Med boasts history and diverse cultures to discover, from the Byzantine Empire of Greece to the Roman advancement through the Mediterranean basin and beyond.
Can I Just Stay In A Marina?
Along the way, we've met many people who've found their perfect corner of paradise and stayed put in one place. We met an Australian couple that's been in the Azores Islands of Portugal for the past three seasons… a couple in San Blas that's been anchored in "The Swimming Pool," as it's called, for the past 18 years.
Here in Portugal, there are many couples that have experienced the Bay of Biscay coming down from northern Europe and simply decided not to go any further. There's a strong sense of community in the marinas.
Mooring a 40-foot monohull here in Portugal costs about 90 euros a week during the winter months, including security, electricity, and water. Plus, getting residency in Portugal is relatively easily and it has a great climate, a good health care system, and lots of English-speakers.
What's It Like To Cross An Ocean?
After a few years cruising the Mediterranean, you'll probably be up for crossing the Atlantic, a fantastic adventure… The journey is typically split into three sections, each one longer than the one before. This gives you and your crew time to build experience.
You start with the four-day cruise from Gibraltar to the Canary Islands of Spain around the end of September. After cruising this archipelago for the autumn months, you start your crossing in the first months of the new year.
After six days at sea, your next stop will be the islands of Cape Verde off Africa's west coast. These deserted tropical islands and the long-lost lifestyle will make you feel like you've traveled back in time.
The last stage is the 14-day trip, riding the Atlantic swells, surfing down waves with the following breeze, all the way across 2,000 miles of empty ocean to the Caribbean Sea.
For many, this is the best sail in the world, a yachtsperson's dream. The delights of the Caribbean await you at the end of the journey: rum punch, jerk chicken, reggae, and soft sands…
A Lifestyle Second To None
Carla and I have a lot more traveling to do, from the Turkish capital of Istanbul to the Egyptian coastline of the Red Sea. There's always somewhere new to explore…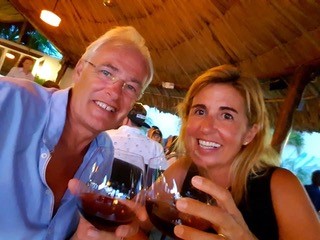 If you crave adventure, love traveling, and aren't ready to settle down yet, the sailing lifestyle could well be the lifestyle for you. Lifting anchor, moving to a new-world destination, and taking your home with you is easier than you think.
Carla and Simon Fowler
Perpetual Travelers