8. Santiago
Monthly Budget: US$3,289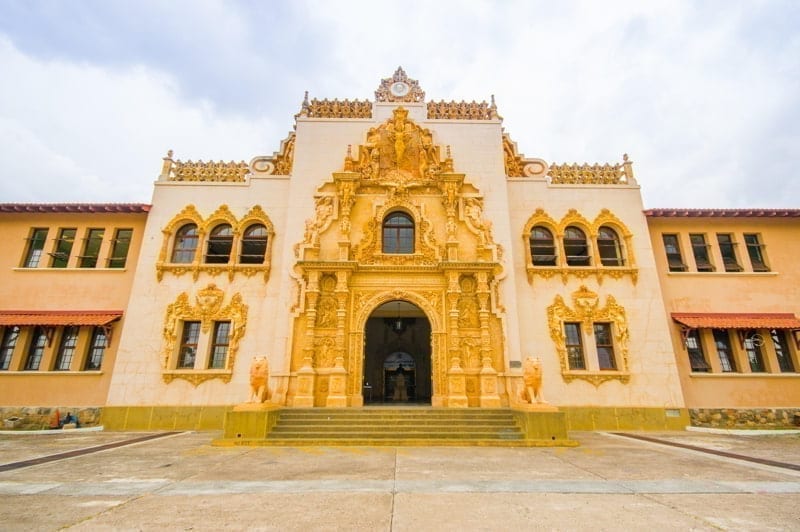 –Where Is Santiago?
Santiago is the bustling capital and the commercial and political center of the Veraguas province, as well as the transportation hub for Central Panama. It is also a university town renowned for training the future teachers of Panama.
Santiago has been growing for several years now, but no one was paying attention as the creeping path of progress wound its way through this sleepy city. These days, Santiago is no longer an outpost in the middle of nowhere, it's become a true regional hub in its own right.
– Cost Of Living In Santiago
Renting an apartment or house here can cost about US$500 a month. How much you spend on food will depend on the products you purchase, the types of food, and the quantity or package size, of the item you are buying. If you decide to go the local way, your grocery monthly budget could be as little as US$300.
– Health Care In Santiago
The Hospital Regional de Veraguas Dr. Luis "Chicho" Fábrega is considered a First-World hospital and one of the best in Panama. It is associated with the University of Panama and together they have committed to graduating 100 doctors annually. The University of Texas School of Medicine has established a medical program and academic exchange with the hospital.
– Lifestyle In Santiago
Santiago is full of people willing to work around your home. Name the type of worker you want… maid, cook, gardener, handyman, painter, woodworker, etc. In Santiago you'll find them all.
For entertainment, you can head to the mall to catch a movie. Shopping options in the Santiago Mall include Mr. Jones, Ximi Vogue, Bellini, and Columbia.
In Santiago, you can easily spend the days just kicking back and relaxing if that's what you want. For those who are more adventure-driven, there are all kinds of outdoor activities in the area to take advantage of, too—hiking, fishing, surfing, diving, snorkeling, horseback riding, boating, swimming, and photography… to name a few.
Veraguas is also home to 40 islands, the largest of which is the Coiba National Park, a UNESCO Heritage Site. This island has the largest coral reef along the Pacific coast of the Americas.
It really is a funny thing in Panama… one day almost everyone you meet speaks English, but then for the next three days you can't find a single person who does. Some basic Spanish is necessary if you choose to settle in Santiago.
Ask anyone in the area about the expat population and you'll be told quite a few live in and around Santiago… which includes Santa Fe, Santa Catalina, Mariato, and along the coast. Cable and cell service in Santiago is almost the same as Panama City. However, the farther out you go from the city, the more sporadic your service will be… the terrain here is the natural enemy of good signal strength. Outside of Santiago most homes use a satellite dish for their cable service.
Santiago has a very active market with many properties for sale, if you know how to find them. The best method when shopping for property is to personally visit the area you want to focus on, spend time canvasing the area, look for se vende (for sale) or se alquila (for rent) signs propped up in windows or pegged in the ground, and talk to neighbors and local businesses.
As it is, the only way to get to Santiago from the city is by private plane or helicopter… or by car (or bus). Driving time from Panama City varies depending on traffic… Friday afternoons are generally a nightmare when leaving Panama City, as are holiday weekends when everyone heads to the interior of the country. In perfect conditions, the drive should take about three hours. It's located halfway between Panama City and the Costa Rica border.
7. El Valle
Monthly Budget US$1,613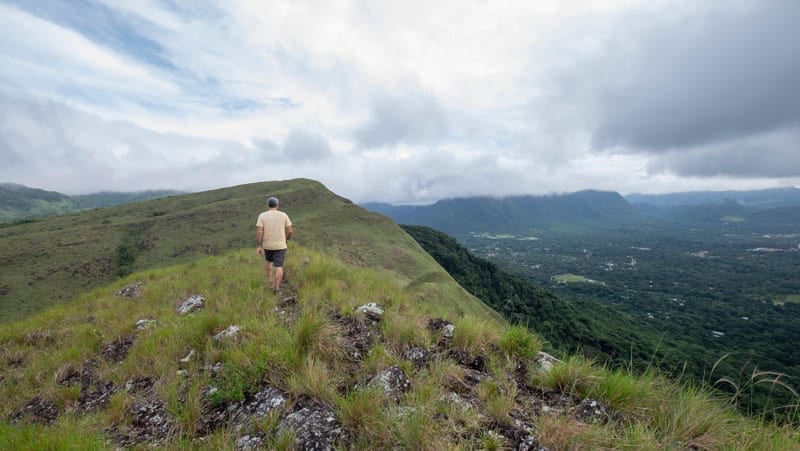 – Where Is El Valle?
El Valle de Antón is situated in a 3.7-miles-wide caldera of an inactive volcano. It's without a doubt one of Panama's biggest tourist and vacation destinations. Urban dwellers come here to relax, expats come here for the quieter life, and tourists come for its many natural attractions.
Because of its elevation it has a year-round mild and mostly cool climate. Arguably best of all is that this is a great walking town. Bike lanes, paved pedestrian paths, and decorative street lighting run through the center of town via Calle Central, making El Valle an even better place for cycling, walking, and running.
– Cost Of Living In El Valle
There are few dramatic differences in the cost of living in El Valle compared to other areas of Panama. Goods and services are somewhat limited here, but ever improving. Food prices have gone up, but are still comparable to those of the States. As is the case throughout Panama, local brands and produce can often save you money. Local restaurants serving traditional Panamanian cuisine, offer the most affordable dining in El Valle. Most other restaurants offer mid-range to fine dining prices. Your monthly budget to live comfortably in El Valle could amount to about US$1,600.
– Health Care In El Valle
There are no specialists in El Valle. To get this attention, you'll have to go to Coronado, Penonomé, or Panama City.
– Lifestyle In El Valle
This is a town that revels in the celebrations of the holiday season. The country's holiday season spans early November to early January, and El Valle commemorates the season with lots of parades filled with loud music and fireworks.
El Valle also has a vibrant restaurant scene, offering traditional Panamanian, Italian, Peruvian, Chinese, Spanish, and fusion cuisine. Most of the restaurants are casual, but there are upscale options.
This is a great place for hiking and bird-watching. The area's most well-known hiking trail is La India Dormida. Cerro Gaital is another one for experienced hikers. Cerro Cara Iguana is known for great sunsets.
El Valle is a Spanish speaking community. Few locals speak English.
This is a popular expat destination among retirees. Getting to know your neighbors in El Valle is easy. Locals and expats are very friendly. Social activity is driven by church groups, volunteer activities, expat happy hours, community fairs, and more.
Over the years, electricity and water have become reasonably stable in El Valle. Internet service is good throughout much of El Valle, although it is advisable to verify service availability.
El Valle is about 90 miles from Panama's Tocumen International Airport. The primary road leading to El Valle is a winding two lane road, just off the Pan-American Highway. The scenery along this road is breathtaking in places, but it is a typical mountain road. Drive carefully here, no matter how good the conditions.
6. Casco Viejo
Monthly Budget: US$3,329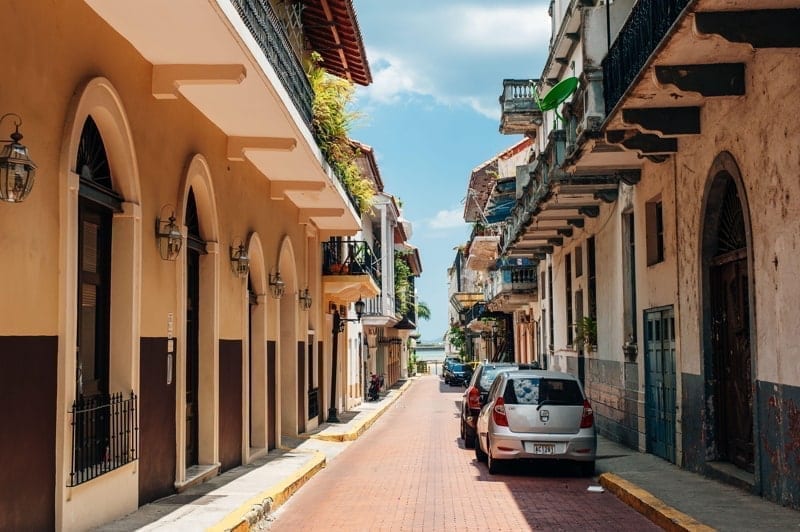 – Where Is Casco Viejo?
Often regarded as the Soho of Latin America, the historic Casco Viejo neighborhood offers a different kind of city life than is found throughout the rest of Panama City. The narrow cobblestone streets, plazas, and centuries-old buildings give this town an Old-World impression. The architecture is reminiscent of French-colonial, along with Spanish-colonial influences.
After the destruction of Panama City's original site (Panama Viejo) to pirates in the 1670s, the remaining inhabitants looked west, resettling in the present-day location of Casco Viejo.
As the city grew during the 20th century, the city grew further out, and the money moved with it. Near the end of the 20th century, the neighborhood's vintage architecture had fallen into a state of decline and decay. Then came UNESCO, designating the area as a World Heritage Site in 1997 and setting the stage for Casco Viejo's revitalization. This has become an exclusive spot for real estate.
Casco Viejo (Spanish for "old quarter") might be the best of what Panama City has to offer… or the worst. It depends on your point of view.
– Cost Of Living In Casco Viejo
Casco expats pay top dollar for their slice of historical significance. This is Panama's top neighborhood for tourism, so everything from rent to meals at restaurants to goods and services is more expensive here. Rent in Casco Viejo ranges from about US$750 to US$2,000.
There are no grocery stores or movie theaters in the area. Also, you'll have to head into El Dorado, Albrook, or Punta Pacífica, among other places, for shopping or anything else. If you don't own a car this means you'll have to pay for an Uber or a taxi. If you buy local products, your monthly groceries expense could be about US$250.
– Health Care In Casco Viejo
Casco Viejo is about a 10-minute drive from both the Paitilla Hospital and Johns Hopkins affiliate Punta Pacífica Hospital. Both of these have internationally trained doctors and English-speaking staff. You will receive quality care at either one.
– Lifestyle In Casco Viejo
In Casco Viejo you have many options for entertainment. This is a neighborhood with restaurants, clubs, bars, cafés, museums, indigenous vendors, and rooftop bars offering happy hours in the afternoons, and beautiful views of the city during the night.
Just around the corner from Casco Viejo is the Amador Causeway, a 6-kilometer (3.7-mile) stretch of road that reaches out into the Pacific and leads to Naos, Perico, and Flamenco islands. The Amador Causeway is a great place for recreational activities. You'll almost always find people here walking, jogging, renting pushbikes, roller blading, and so on.
From Casco you can easily access the Cinta Costera III, where you can find a skate park as well as an outdoor food court called Sabores del Chorrillo.
Casco Viejo is a very popular attraction for foreigners. You could get by with little to no Spanish. Every bar, restaurant, shop, museum, and theater will have English-speaking staff. Still, knowing some Spanish is always a good idea.
Casco-based expats live in the areas of the neighborhood that have been restored, but there are still many pockets of dilapidation here, too. You'd also live alongside Casco's lifelong residents, many of whom live in poverty conditions.
This area is laid out like a classic European city. It's on a grid with shady plazas complete with churches every couple of blocks. Its narrow streets are meant to be explored on foot… Luckily, walking is the best way to appreciate the colonial architecture, like the buildings with shuttered windows, balconies on every level overlooking the street, ornate iron work and turned wood…
To get to Casco Viejo from abroad, you'll need to arrive to Panama City first. Luckily, this is the Hub of the Americas, and Tocumen International Airport is well-connected. Once you get to Panama City, the most comfortable way of getting around is in a private car, whether you own or rent, or take a taxi or uber. The drive from Tocumen to Casco Viejo takes about 40 minutes, give or take depending on traffic.
Within Casco itself, you won't need anything but your own two feet to get around. The neighborhood is compact and walking from one side to the other takes under 15 minutes.
5. Volcán
Monthly Budget: US$1,567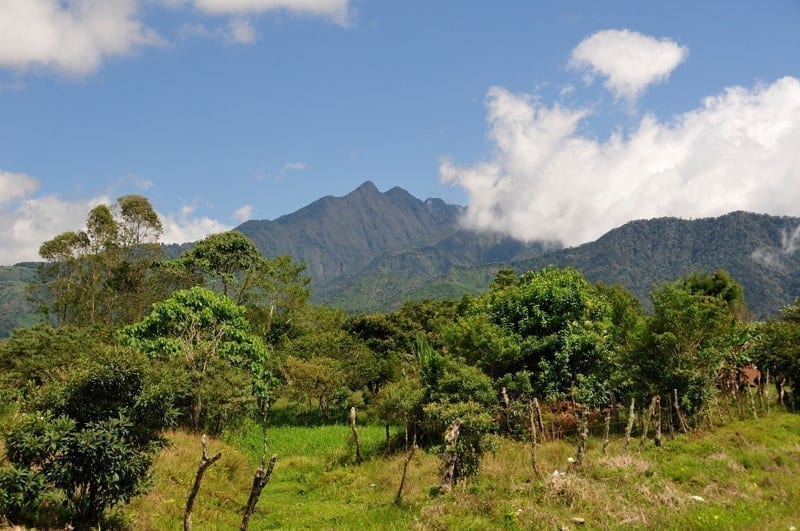 – Where Is Volcán?
Volcán is a quiet and peaceful town, largely free of the tourists and expats that you find in Boquete. The area is very remote and sparsely populated. At 1,400 meters above sea level with great weather, Volcán is a farming community and boasts some of the most fertile farmland in the country. Known as the breadbasket of Panama, this area provides at least 75% of the fruits, vegetables, meat, and milk.
– Cost Of Living In Volcán
You can rent a two-bedroom, two-bathroom house for about US$500. Your utility bill will be negligible as air conditioning isn't necessary here. Your groceries can amount to about US$300 if you choose to buy local produce.
– Health Care In Volcán
You will want to make the hour or so drive to David for quality medical care and surgery.
Take your pick of one of the two quality private hospitals, Centro Médico Mae Lewis located on the Pan-American Highway and Hospital Chiriquí.
– Lifestyle In Volcán
For a small town, Volcán is blessed with many restaurants. Nightlife includes bars, a disco, and a pool hall. The Wandering Sloth offers live music on Saturdays and the place is often hopping.
For hikers there are two virtually untamed parks: Volcán Barú National Park and La Amistad Park, both with trails through the jungle. You could also hike to the top of Volcán Barú on a clear day and gaze at both the Pacific Ocean and the Caribbean Sea. Again, it is advised to hire a certified guide as the jungle can be tricky.
English is not yet widely spoken in the area. For now, at least basic Spanish is necessary to get by here. More and more retirees, families, and entrepreneurs are moving to Volcán and surrounding areas. It has become the third-largest condensed area of expats in Chiriquí. The expat community is friendly and supportive of each other and are welcomed by the locals.
All the necessary supplies are found here, like hardware stores, four large supermarkets, bakeries, banks, boutique hotels, and pharmacies, as well as feed stores, saddleries, and auto- and tire-repair shops.
The infrastructure is close to excellent: Uninterrupted electricity, potable tap water, and internet and cable are all readily available and reasonably priced. Plus, the public transport system is reliable.
To get to Volcán, you have two options… One begins at the Boquete/David highway, veers left toward Potrerillos, then goes up a winding, two-lane paved highway that seems never-ending. The other, less vertical route follows the Pan-American Highway from David to La Concepción where you turn right. This is an excellent road and travel is much faster—a mere 40 minutes from David.
4. Áreas Revertidas
Monthly Budget: US$3,289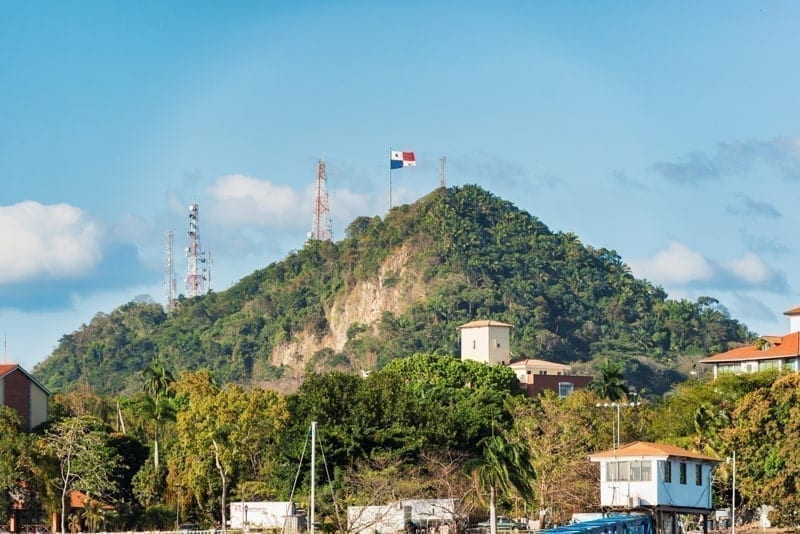 – Where Is The Áreas Revertidas?
The neighborhoods that make up the former Canal Zone, now known as Áreas Revertidas, are Ancón/Balboa, Albrook, Diablo, Los Rios, Curundu, and Clayton/City of Knowledge.
Residents were mainly U.S. military personnel or employed by the Panama Canal Company, which was controlled by the U.S. government. The zone had its own governor, police, schools, hospitals, courts, judges, and even operated under Jim Crow type laws of segregation.
With its old military barracks and facilities, these neighborhoods are tropical residential areas with unique architectural designs, popular with expats and those wanting to get away from the city and closer to nature. Panama City is the only metropolis in the world that has a tropical rain forest within its city limits.
– Cost Of Living In The Áreas Revertidas
The Áreas Revertidas aren't a bargain per se. Houses for rent cost about US$2,200 with three bedrooms, three bathrooms, and one office.
– Health Care In The Áreas Revertidas
For health care, like everywhere else in Panama City, the best quality you'll receive will be at Punta Pacífica Hospital or Paitilla Hospital. Both are about 20 minutes away from the Áreas Revertidas neighborhood.
– Lifestyle In The Áreas Revertidas
There's plenty of entertainment around the Áreas Revertidas neighborhoods. Albrook Mall is the biggest shopping mall in Panama City, in which you've got supermarkets, outlet shops, a bowling alley, and movie theater. The Panama Canal is close by. You can also go for a walk at Cerro Ancón. Plus, you're practically in Panama City, so you're only minutes from everything else the city has to offer.
Both Albrook and Clayton are fantastic place to enjoy a stroll. You won't feel nearly as much heat as in the city center because of the neighborhoods' intact forests. Many people ride bikes, skateboards, roller blades, etc.
There is a fairly large expat community in Albrook and Clayton. Because of the popularity among expats, you'll find that many who live in Albrook and Clayton speak English. Many bars and restaurants will also have an English-speaking staff.
The infrastructure, as it is in most of Panama City, is fantastic. You can get Wi-Fi almost everywhere. The roads are well maintained, water is drinkable from the tap, electricity is reliable, and you've got your choice of cable television or satellite TV.
You'd definitely need a car to get around comfortably. You could call them walking towns, as there are sidewalks everywhere and the scenery is beautiful, but you're not going to get from one destination to another easily. Everything is very spread out.
3. Boquete
Monthly Budget: US$2,322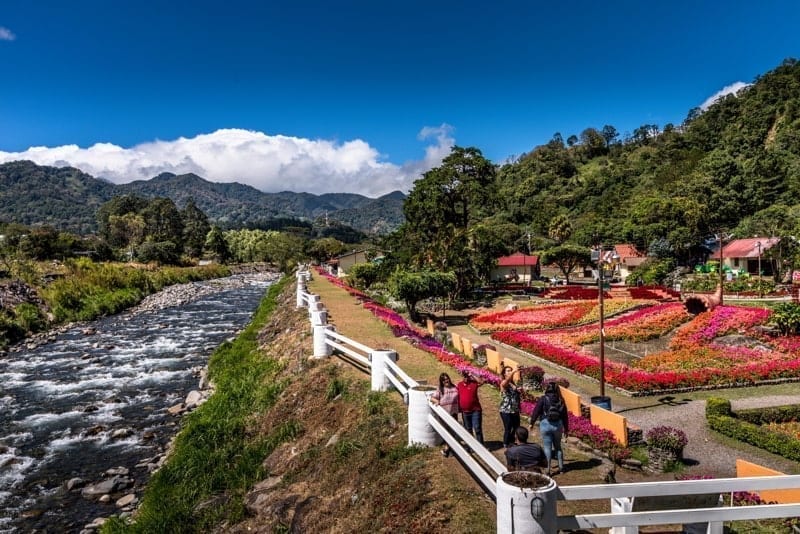 – Where Is Boquete?
Snuggled into the side of a volcanic crater, surrounded by lush forest, and home to profusions of multi-hued blossoms, this region is nothing if not picturesque…
Boquete is part of the Chiriquí Province, about 37 miles from the Costa Rican border. The city of David is about 30 miles away from here.
Life in Boquete is familiar… a natural choice for someone contemplating overseas retirement but not willing or ready to fully immerse themselves in the foreign.
– Cost Of Living In Boquete
Not including Panama City and Coronado, the cost of living in Boquete is higher than in other areas of Panama. Boquete is, after all, considered to be one of Panama's most popular expat havens. Renting a two-bedroom house with a garden and relatively close to town can cost about US$1,000. Property is readily available in Boquete and surrounding areas, both to rent and to purchase. Groceries for a couple will cost about US$400.
– Health Care In Boquete
Boquete doesn't have its own hospital yet, but David, where hospitals are available. That said, several clinics and doctors' offices offer general practice and specialist services in Boquete.
– Lifestyle In Boquete
Boquete is a nature lover's playground. The climate here is springlike year-round. Head into the mountains and take your pick of the trail you wish to hike. One of the most common ones are Sendero El Pianista. It is advisable to hire a certified guide who knows the area as the jungle can be tricky to venture into. You can also go ziplining, white water rafting, or take part in a coffee plantation tour.
Boquete boasts a lively music and arts scene. The Boquete Jazz and Blues Festival and the Coffee and Flower Festival are just two of the internationally recognized and attended events that take place here.
Boquete has the highest density of expats in Panama, you'll hear English often when you walk Boquete's streets… We still always advise you learn at least the basics of the local language, it's fascinating and heartwarming to intermingle seamlessly with third-generation boqueteños, indigenous people, and everyone in between.
There are several supermarkets, clothing, shoe, and dry goods stores, hardware and agricultural supply establishments, hairdressers, computer and cell phone outlets, real estate offices, a butcher shop, and several banks.
Panama City is about 340 miles east of Boquete. To get here by car or bus, simply follow the Pan-American Highway from Panama City to David and then divert north towards Boquete.
2. Avenida Balboa
Monthly Budget: US$3,289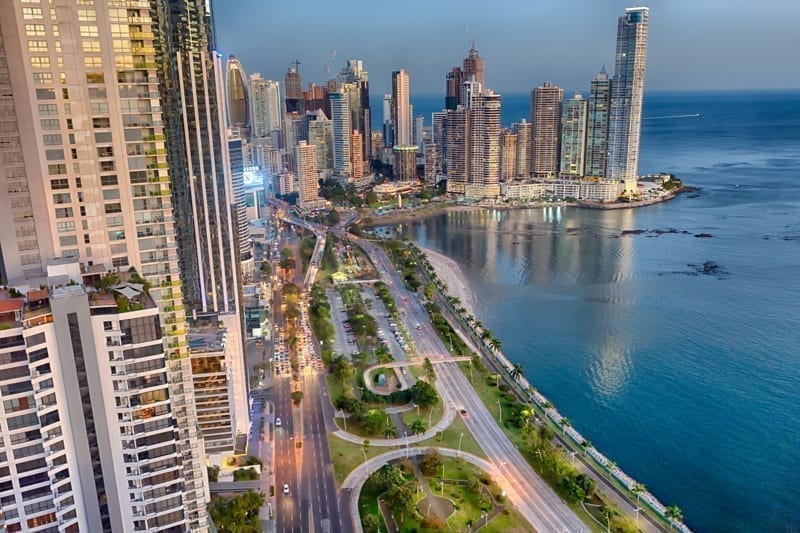 – Where Is Avenida Balboa?
Avenida Balboa is an area where you'll find tall skyscrapers and some commercial activity including a select few high-end restaurants, hotels, and cafés. Parallel to Avenida Balboa you'll find the Cinta Costera, which provides access to outdoor activities. Nearby are all the amenities and attractions of Bella Vista, and in the Puntas—Punta Pacífica and Punta Paitilla—are Multicentro and Multiplaza.
– Cost Of Living In Avenida Balboa
Panama City is no longer a bargain destination, and Avenida Balboa is among the few neighborhoods that offer luxurious apartments. For example, real estate on Avenida Balboa typically costs between US$2,000 and US$3,000 per square meter and rents for about US$2,000 per month. Having a car is also expensive; even second-hand cars are priced high, and added expenses come from driving on certain roads that charge tolls. Public transportation costs next to nothing, with bus tickets as low as 25 cents.
Groceries can be as much as you pay in the States if you're shopping for the exact same products. You can buy pretty much any generic-brand American product in Panama City for a slightly inflated cost. To lower these expenses, make a few changes and shop for local products.
Hired help, though, is a luxury you will be able to afford in Panama whether you have a cleaner, gardener, or driver. Plus, as a retiree living here on the Pensionado Visa, you won't be taxed heavily and will enjoy discounts on many things.
– Health Care In Avenida Balboa
Private hospitals in Panama City are modern and have state-of-the-art technology and frontline medications. Punta Pacífica Hospital is the best in the country, affiliated and managed by Johns Hopkins Medicine International. Paitilla Hospital is also popular with expats and known for lower prices. Both hospitals are a few minutes away from Avenida Balboa.
– Lifestyle In Avenida Balboa
The most charming part of town is undoubtedly Casco Viejo, about a 4-minute drive from Avenida Balboa. Casco is a tiny treasure trove of historical structures best explored on foot. Here, old buildings are converted into private homes, condos, restaurants, funky cafés, clubs and bars, art galleries, and shops.
For a casual lunch or dinner, head over to the fish market (Mercado de Marisco) located right at the end of the Cinta Costera. Down the other direction you'll find two large malls, Megapolis Outlet Mall (formerly known as Multicentro) and Multiplaza, where you can catch a movie at either one. Multiplaza also has a variety of restaurants to enjoy a nice lunch or dinner like Paladar, P.F. Changs, Tony Roma's, Crepes & Waffles, Olive Garden, and more.
Avenida Balboa does have a fairly large expat population, but the majority of it is made up of working-age expats. You will find some people from the States, Canada, and other Latin American countries living on Avenida Balboa.
Panama has strong connections to the United States and the English language. Many locals in the capital will speak at least some English. On Avenida Balboa, you'll find most people who work at restaurants and shops can speak at least some basic English. However, electricians, mechanics, gardeners, police, house maids, etc., are unlikely to speak any English.
Avenida Balboa is about a 25-minute drive from Tocumen International Airport via Corredor Sur. For maximum comfort and convenience, you'll want to own a car as Panama City isn't walkable. If you decide against having a car, catching a taxi, bus, or Uber on Avenida Balboa is easy.
Avenida Balboa is one of the few neighborhoods where you can walk around with little concern. However, you won't always know where one neighborhood ends and another begins in Panama City. This is something to keep in mind when wandering around.
1. El Cangrejo, Panama
Monthly Budget: US$2,449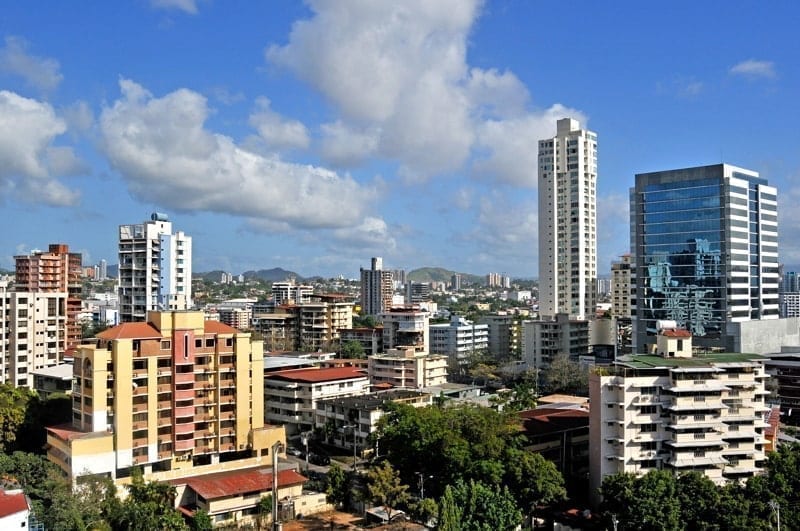 – Where Is El Cangrejo?
The most appealing neighborhood in Panama City for the would-be retiree is in the heart of downtown: El Cangrejo. This neighborhood is home to a fast-growing community of expats and foreign retirees who recognize and appreciate the unique quality of life on offer on what is arguably the most comfortable and convenient downtown Panama City experience.
Getting to El Cangrejo is not too hard. After flying into Panama City's Tocumen International Airport, by car, the trip is usually about 30 minutes (double that in bad traffic).
– Cost Of Living In El Cangrejo
This is not the most affordable place to base yourself in Panama City. However, El Cangrejo is the best Panama City-lifestyle buy for your retirement dollars. You could expect to live comfortably for about US$1,500–US$2,400.
– Health Care In El Cangrejo
Health care in Panama is very affordable compared to in the United States. The Clínica Einstein on Vía Argentina provides routine medical care with English speaking doctors. Should any emergency care be needed, Hospital Punta Pacífica is a full-service private hospital affiliated with Johns Hopkins and is about a 10- to 15-minute drive away.
– Lifestyle In El Cangrejo
In El Cangrejo, most everything you need for day-to-day living is within walking distance. The streets and sidewalks in El Cangrejo have recently been fixed. There are now wider sidewalks and narrow roads which make this neighborhood ideal for walking. If you need to move further away from the neighborhood, you can grab the Metro which runs through here. You could also call an uber or a cab, or ride the bus. As for internet, cable TV, and phone service, these are nearly as reliable as you'd like them to be.
One advantage for any English-speaking or struggling-with their-Spanish expats is that El Cangrejo's expat population, as well as its young Panamanian population, speak English more than in other parts of Panama.
El Cangrejo is a mixed residential-commercial area that's popular with young expats and Panamanians. Your neighbors can be from any part of the world. Just as the neighborhood has a multicultural makeup of people, it also has a multicultural makeup of restaurants.
This neighborhood is home to one of Panama City's best selection of restaurants, cafés, and bars. On Vía Argentina, a mix of bars and pubs can be found.
On a typical afternoon Andrés Bello Park is a busy place, often hosting festivals and fairs of all types, including children's festival, complete with food vendors, handcrafts for sale, and dancing performances on stage. The park has a basketball court, a soccer court and free work out machines.