Panama is a gorgeous, diverse country with everything from white-sand beaches on the Atlantic coast to the capital of Panama City. One of the most intriguing areas, where scores of expats have found paradise, are the tropical rain forests in the Chiriquí Highlands.
Rain forests are one of the most diverse biological ecosystems in the world—renowned for lush, generations-old tropical trees that create a spectacular environment for a variety of animal species.
In Panama, rain forests are home to monkeys that swing from tree branches, jaguars that hide in the shadows, birds as large as eagles, small tropical bird species that flutter under the protection of the tree canopy, lazy sloths, and anteaters hunting for termites. Locals often keep an eye out for the pendulum swinging tail of the Quetzal and the large yellow beak of the toucan.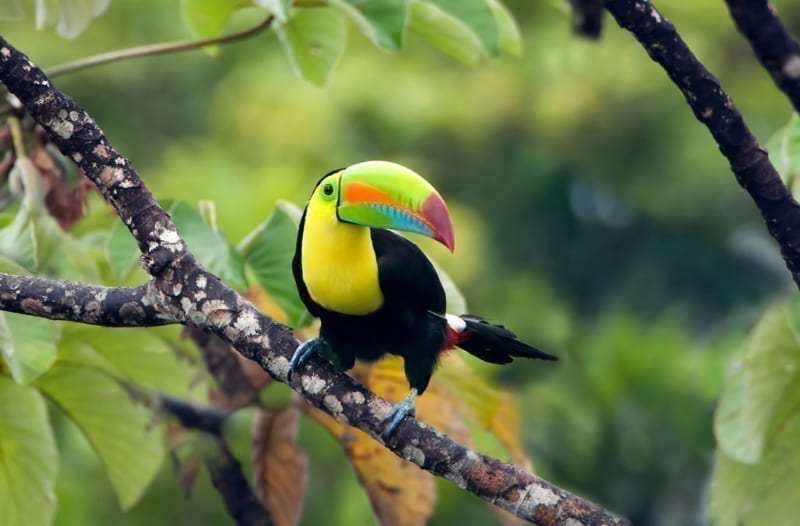 There are several rain forests in Panama, but the Chiriquí Highlands center around Volcán Barú. The peak of the volcano is 3,475 meters (11,000 feet) in elevation. On a clear day, trekkers willing to make the four-hour ascend can see both the Atlantic and Pacific Ocean.
With increased elevation in the highlands, temperatures are much cooler—a welcomed break from the heat of the lowlands. Jackets are a mainstay against the nearly constant mist that provides frequent opportunities to view rainbows. There are two major areas in the highlands that have expat communities.
Tucked into the west side of the volcano sits the small town of Volcán, and the opposite side is home to the popular town of Boquete. Both areas are beautiful examples of highlands and rain forests but offer two different lifestyles.
Volcán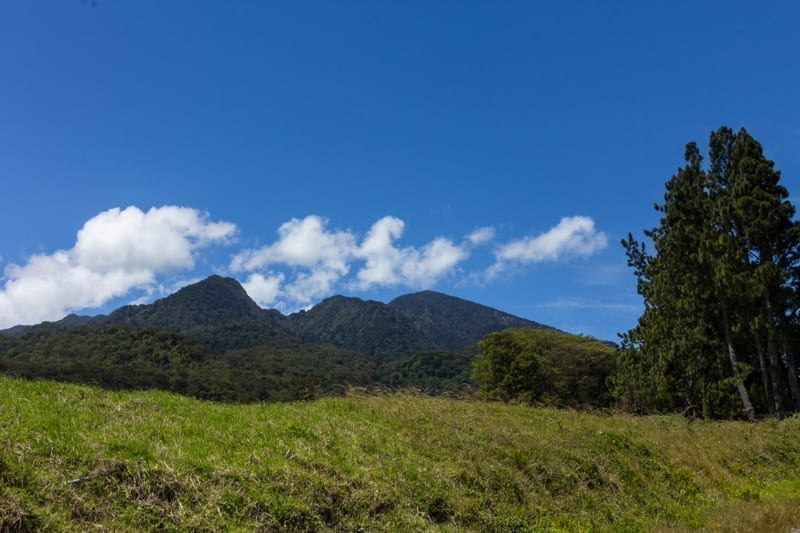 Most people do not visit nor live in Volcán for the town itself. For most, it's the impressive scenery and a chance to get in touch with nature. This makes the area an attractive place for expats looking for a quiet, laid-back lifestyle. The area surrounding Volcán is one of the most picturesque areas of Panama, with long, wide vistas of rolling hills shrouded in cloud mist. It's not unusual to see sprawling homes with picture windows designed for the incredible view.
Volcán is also a popular place for farming. Volcán, the agricultural center of Panama, and the low rolling hills provide an ideal location to cultivate produce. Horse and dairy farms are popular, as well as traditional vegetable farms. Not a day in Volcán goes by without seeing trucks cruising the hillside heaped with carrots, tomatoes, onions, and potatoes. It's part of the local charm of the region.
Farming is not for everyone. Fortunately, the highlands offer a variety of outdoor activities. Volcán Barú National Park, which is just down the road, features a plethora of hiking trails. The trails range in difficulty and length, with one six-hour trail wrapping around the side of Volcán Barú to Boquete. You can also head to the summit of the volcano from here.
If hiking is not your fancy, there are plenty of other outdoor activities in the Volcán area. One example is the Lagunas de Volcán—two wetland lakes that sit at 4,000 feet—the highest lakes in all of Panama. Here you can catch a fresh bass dinner and head home to grill out as you watch the sun set into the cloud bank. Panama is home to over 900 species of birds, so even if you don't catch dinner, you'll enjoy a day full of bird-watching. Birds of particular interest at the lakes are rose-throated becards and pale-billed woodpeckers.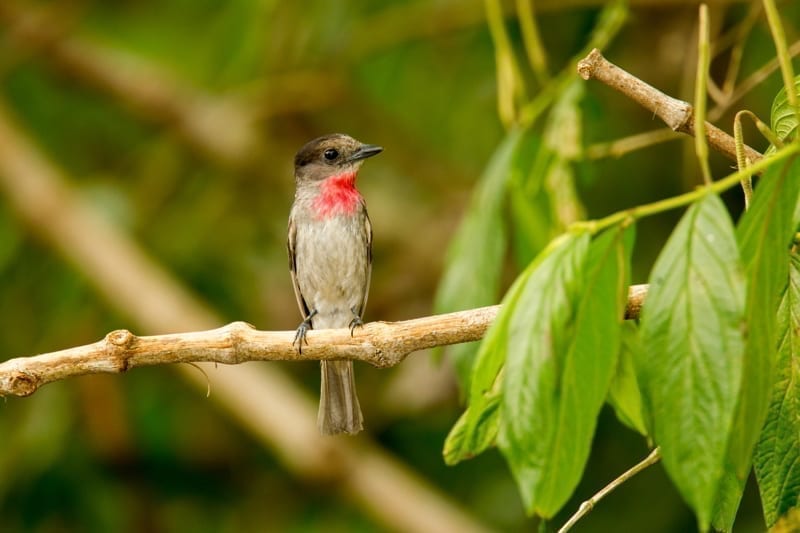 An often overlooked yet incredible site 7 miles south of Volcán is Cañon Macho de Monte. This is a canyon formed by the river, Río Macho de Monte, and is a popular day spot. Although some adventurous tourists visit, the area is usually filled with locals. The canyon itself is spectacular but also provides a host of activities. Depending on what part of the canyon you're in, the river offers class IV rapids for kayakers and areas for the more sedentary choice of inner-tubing or to relax in the cool water. Although the river is the main attraction here, remember to look up occasionally as the canyon is home to a high quantity of bird species, the most notable being the fiery-billed aracaris, riverside wrens, orange-bellied trogons, and orange-collared manakins.
Ultimately, Volcán is a small community with basic amenities. It might not seem like there's much to offer while driving down the main road, but locals know straying off the beaten path is the key to discovery.
The town boasts restaurants that range from familiar Mexican food, to hole-in-the-wall mom and pop stands, to upscale dining with "American" fare. When it comes to accommodations, the area offers affordable hotels, but, like most foreigners, you can also rent private homes and apartments. Hotel Bambito Resort is a popular place to visit for a fresh trout dinner caught in the hotel's lake. An important thing to note is that nightlife in Volcán is fairly nonexistent.
Continue up the road and you'll reach the quaint community of Cerro Punta where the road is lined with small vendors selling a variety of local goods. Raspberry jam, strawberry wine, and sweets and medicinal herbs are just a few things available. Small nurseries and plant vendors also sell everything from cacti to roses. The highlands climate is a shocking contrast in flora from the rest of Panama.
Cerro Punta is also home to the renowned Finca Dracula—home to over 2,000 orchid species from Panama and South America. Cerro Punta's climate is particularly hospitable to orchids, especially the genus Dracula. The finca is home to 119 out of 120 species of the Dracula Orchid. Be advised that Finca Dracula is not open year-round. Visitors interested in visiting should plan accordingly.
Boquete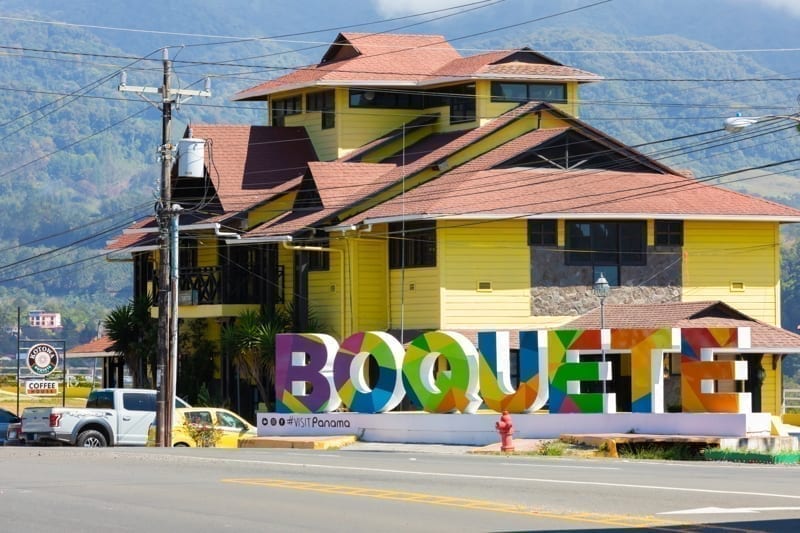 The other side of Volcán Barú is a different world, amazing in its own right. The area is dominated by the town of Boquete, bordered on the east by the gorgeous river, Río Caldera. Once upon a time, Boquete was just a forgotten, small mountain town buried in the lush valley of Volcán Barú. Today it's home to one of the largest expat communities in Chiriquí, with estimations claiming 20% of the population are not local Panamanians.
The culture of Boquete is as different as can be from the sleepy village of Volcán. The main street is teeming with people hustling about their business or simply poking around new shops. The road is filled with cars and buses, signs are written in English, and parts of the community are geared toward foreigners and expats. There's even a farmers market on Tuesdays that sells a wide range of artisanal foods, crafts, and organic fruits and vegetables.
There's no shortage of restaurants, bars, or places to shop. It's actually noted that Boquete has the highest number of restaurants per capita in all of Panama. Many restaurants and bars in town offer happy hour specials, and finding a hamburger is no great feat.
Boquete also offers a large variety of housing options… from wood cabins tucked in the hillside, sprawling family homes overlooking the mountains, and apartments downtown. Depending on what you're looking for, in Boquete, it's available.
For those uninterested in the downtown area, a main attraction in Boquete is white-water rafting. The nearby river, Río Chiriquí, offers rafting for all skill levels—beginner to highly skilled. There are a number of companies, some that even offer zip-lining, with rafting gear either in town or online.
Hiking is another popular activity, and there are several notable trails in the area. One can hike Volcán Barú or simply enjoy the two- to three-hour journey to the Lost Waterfalls, some of the most beautiful falls in Central America. On the way there, there's a rock wall called Los Ladrillos that many people climb for the thrill or mere accomplishment.
When locals want to relax, they head to the Caldera Hot Springs. There's four undeveloped mineral springs that range in temperature from 38°C–46°C (100°F–115°F). They are located on private property, but the entrance fee is only US$2 (since my last visit). First-timers can take a guided tour that includes 4×4 rides and snacks. For an extra fee, you can also visit the petroglyphs located nearby.
For those that want to enjoy the countryside but are not up for hiking, there are many opportunities to go horseback riding. Many of these trips take you 30 minutes outside of Boquete to the Caldera River, where locals enjoy both the lush rain forest and rolling green hills.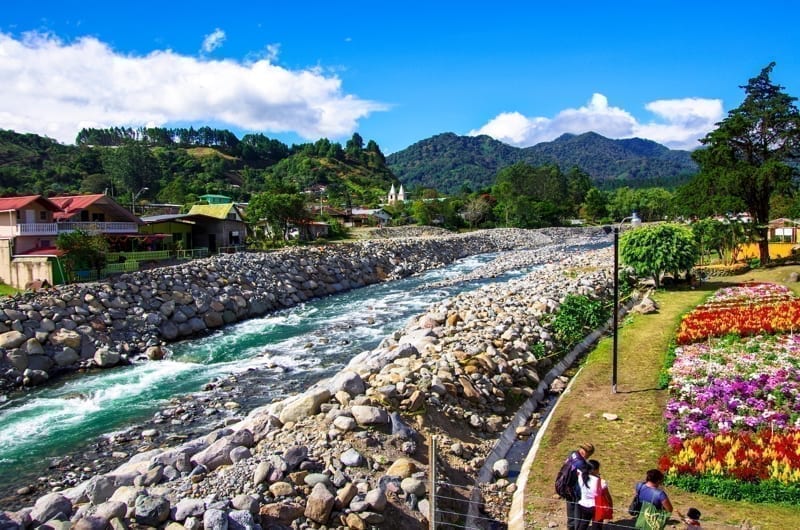 No part of Boquete is complete without coffee. In any number of restaurants, expats meet for coffee and to catch up on the local gossip. Locals can also stop in and sample fresh brews from the shopkeeper. One treasured gift is the famous Geisha coffee that is considered one of the most expensive coffees in the world and is only grown in Panama.
So whether one desires the laid-back, quiet town of Volcán or is looking for a little more action in Boquete, both offer a different aspect of the rain forests of Panama while indulging everyone in a small piece of Panama's Chiriquí Highlands.
Rebecca Teeters
Panama Insider