Early Wednesday morning in Santo Domingo, Mistress of Ceremonies Kat Kalashian welcomed dozens of your fellow Live and Invest Overseas followers to our annual Live and Invest in the Dominican Republic Conference.
As we've been reporting for some time, we believe this country offers your best current opportunity for having fun and making money in the Caribbean… and this week, Kat, with the help of more than 40 DR experts and expats, showcased just how much this island nation brings to the table.
To start, the Dominican Republic boasts a rich, relaxing, cultured lifestyle even if you're shopping with a pensioner's budget.
Then there's the country's property market… which is returning 12% a year and more.
Layer on residency and citizenship programs that qualify as the quickest, easiest, and cheapest in the world…

And you've got a Caribbean outpost that presents an opportunity for the ultimate Plan B.
White sands, gently lapping turquoise waters, softly swaying palm trees, and year-round sunshine… for some, life in the Caribbean is as good as life gets. Trouble is, much of the Caribbean can be beyond the typical paradise-seeker's budget.
If you dream of a beach lifestyle but want more options for year-round entertainment—from upscale restaurants to international theaters…
If you'd love the chance to embrace an easy, carefree life in a nation that's all about community spirit, family, and embracing traditional values that harken back to 1950s America…
Then I have very good news for you: Now's the time to revisit your white-sand dream… for, as Kat and company revealed to everyone in the room at this week's event in Santo Domingo, this spot we've found in the Caribbean is everything you're looking for… and, yes, you can afford it.
The final landing place of Columbus and his crew on their grand discovery tour of the New World in 1492, today it's a place where you can:
Live well on US$1,355 a month (enjoying extras you'd struggle to afford back home)…
Own a three-bedroom home just off the beach from as little as US$244,000 (or a loft-style apartment for less than US$100,000)…
Enjoy year-round summer-like weather—most days here are sunny with clear blue skies. The average high is 87 degrees Fahrenheit, with an average low of 73…
Embrace the best of Caribbean living but also have First World amenities and entertainment nearby…
Enjoy an instant welcome in a country that embraces (and rewards) foreign investors and retirees…
Take advantage of an easy path to residency—with the opportunity to acquire a second passport in just two years…
Access high-quality and affordable medical care (and cheaper health insurance)…
The Dominican Republic isn't entirely new to Americans. Honeymooners, spring-breakers, golfers, and couples seeking five-star luxury have, for a decade, been vacationing in the all-inclusive resorts of Punta Cana.
Meanwhile, backpackers and adventurers trek through the jungle, race down white-water rapids, and let loose in the party towns of Sosúa and Cabarete.
But that's not the whole story of this island. Beyond the resorts and the jungles are eclectic fishing villages and towns offering a wonderful lifestyle to those wanting to stick around for longer than a two-week holiday.
Plus, the Dominican Republic's historic and architecturally exciting capital, Santo Domingo, is the oldest European city in the Americas.
Property values in all these locations represent some of the best buys not only in the region but on a global scale, and the interior of this not-so-little island nation offers rich, fertile, and seriously undervalued land prime for agricultural investment.
I've been watching the Dominican Republic for more than a decade, waiting for the time it could join the ranks of our top havens in the world. At last, I believe this Caribbean nation's time has come.
With a stable government—and a steady economy that grew by 7.0% in 2015, 6.6% in 2016, and 4.6% in 2017—today, the Dominican Republic is ripe and ready for expats looking for a safe and affordable option in the Caribbean.
What makes the DR so attractive right now? I put it down to these four things:
1. Prices Represent The Best Value In The Caribbean…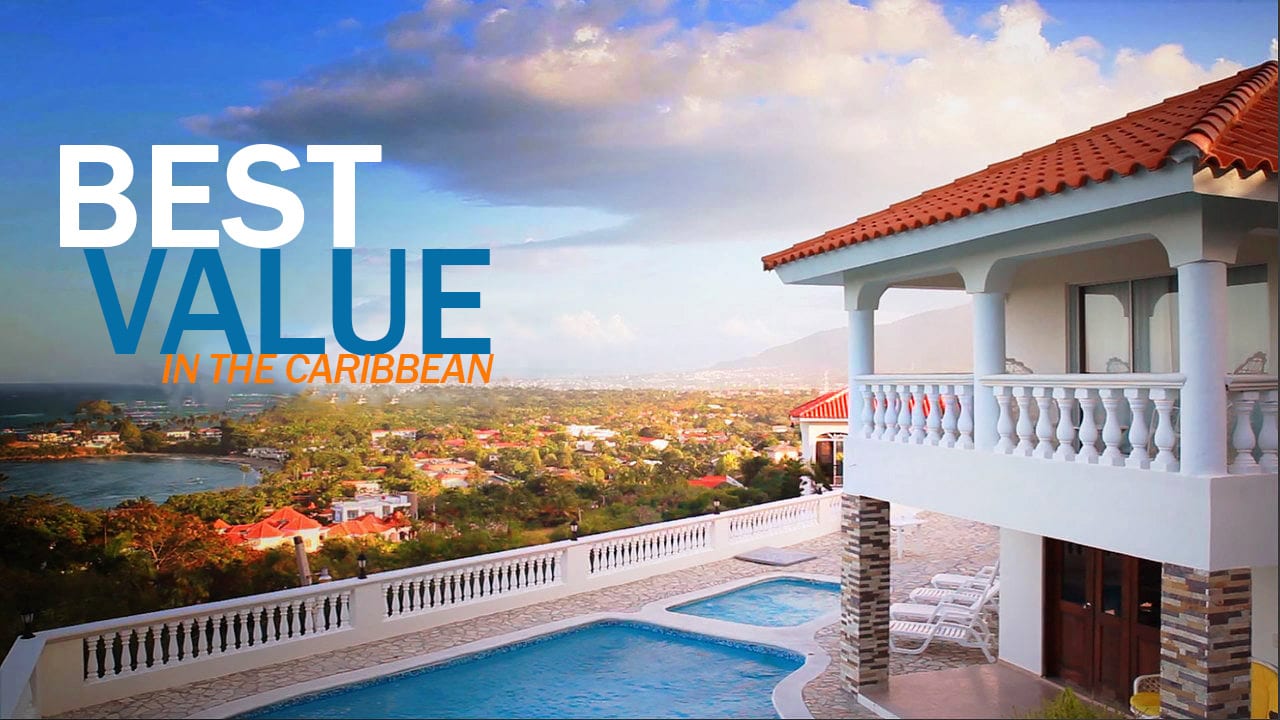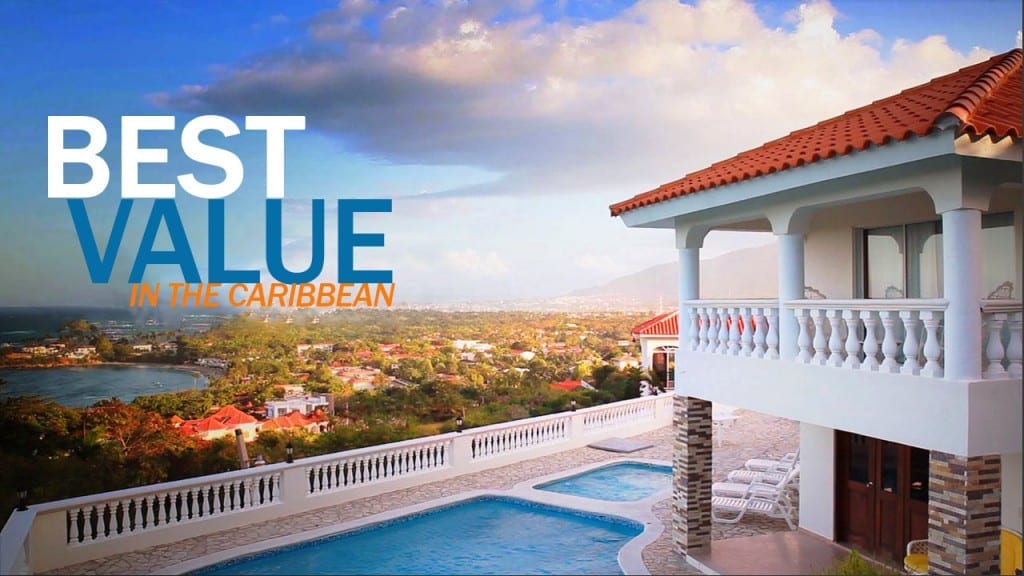 Soft sand beaches, warm turquoise waters, and year-round sunshine… it's all possible on a small budget here…
From real estate to the general cost of living, it's hard to believe you're in the Caribbean. Prices across the board appear more Latin American. You could live well here on your monthly Social Security check alone.
A budget of US$1,355 would provide for a good lifestyle, without having to watch the pennies as you might back home. With a budget of US$2,000, you could afford more entertainment, extra household help, and really feel like royalty. I'm always conservative in preparing budgets, by the way.
Everybody has different needs and priorities. But, for what it's worth, one reader wrote to say that he lives the good life in Santo Domingo (the nation's historic capital city) on US$500 a month. That's all costs except rent, as this reader has invested in his own property.
Speaking of real estate, as I mentioned above, prices start below US$100,000 for apartments. There are plenty of villas near the beach around the US$250,000 mark. And even the biggest dream mansions are a fraction of the usual multimillion-dollar price tag in this part of the world.
As an added bonus, investing US$200,000 in the Dominican Republic (a real estate purchase qualifies) means you can apply for citizenship after just two years. The country's requirements for naturalization are significantly lower than other Caribbean countries.
Granted a DR passport isn't the best in the world, it allows you visa-free travel around most of the Caribbean region (and also Germany and Spain). And the second passport is good as a general backup and for peace of mind.
Rentals are well below other Caribbean destinations, too. Arriving in town, you're probably going to need to rent for some time, at least. And, here, you won't feel ripped off. Prices start at around US$600 for a one-bedroom apartment.
I should point out at this stage that the local real estate market is safer than ever. Up until recently, property titles were a shambles. Deals were made without much regard to the law. Investing here was a pure gamble.
Now, thanks to a major government initiative to clean up the real estate sector, the market has been given a shake-up. Titles everywhere have been cleaned up and put in order. Rights of possession have been abolished. Clear procedures exist—and are being followed—for the purchase of real estate.
Unlike the early expats who settled here, you're coming in at a low risk in a fully regulated market.
Of course, this opportunity isn't going to remain a secret for long. Like anywhere in the world, the sooner you get in, the better placed you'll be to take advantage of affordable real estate prices—prices that are still bargain-basement by Caribbean standards.
2. Quality Amenities And Services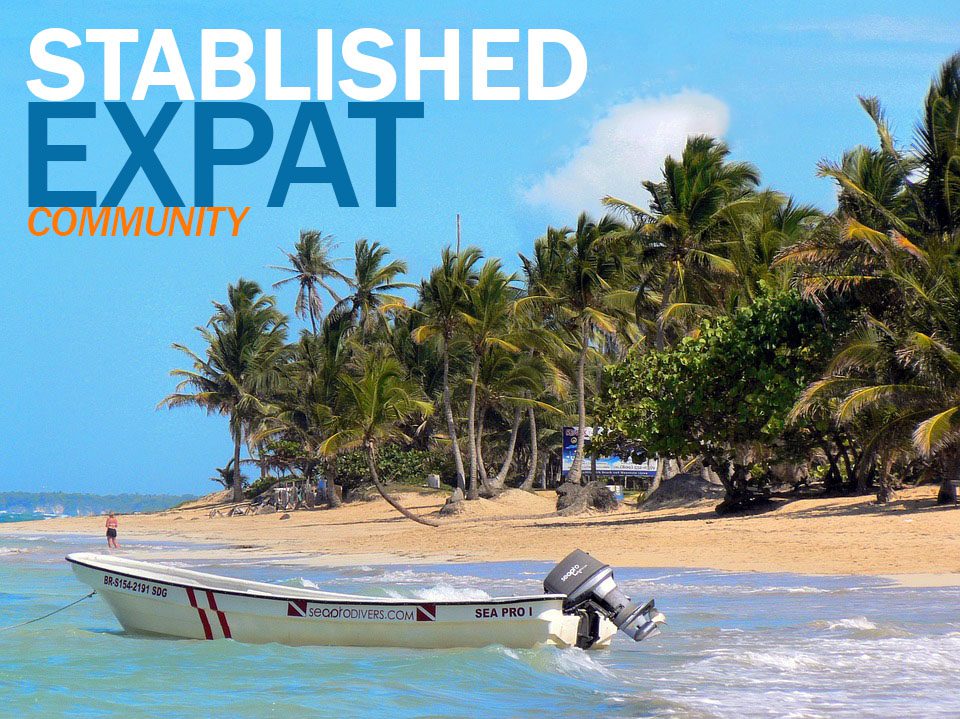 White-sand beaches, swaying palm trees, warm turquoise water, year-round sunshine—you'll find them in abundance here in the Dominican Republic… and, of course, pretty much everywhere else in the Caribbean.
Fun and activity abound on this island, with a little something for everyone…
What sets the DR apart from other Caribbean islands and nations is its more sophisticated lifestyle—one that is strongly European. Santo Domingo, the oldest permanent settlement in the New World, boasts some impressive colonial architecture, along with modern shopping options, theaters, museums, and stadiums (béisbol is a national obsession).
It's the best of island living with the opportunity to take in an opera… go to the game… get in a round of golf… indulge in some retail therapy…
Driving along Avenida George Washington—part of the recently upgraded El Malecón coastal highway on the edge of town—with its five-star hotels, casinos, and luxury condos, the feeling is more ritzy Santa Monica than Caribbean outpost. Meanwhile, El Conde in the Colonial Zone is the longest promenade in the Americas. You could lose an entire afternoon here weaving from café to boutique to colorful artisan stall.
You won't have to worry about being the first expat in town. In our favorite town on the Samaná Peninsula (which I'll introduce you to in a moment), you'll be welcomed by locals and expats alike. And you'll enjoy a wide range of products (from patisserie-baked pain au chocolat to German salami and Swiss cheese) thanks to a diverse and multicultural local community.
In fact, if you love the thought of European life, but would rather be within a two-hour hop of the U.S. East Coast (and with better weather), then this could be the paradise you've been waiting for.
3. Developments In Infrastructure Make For Easy Living…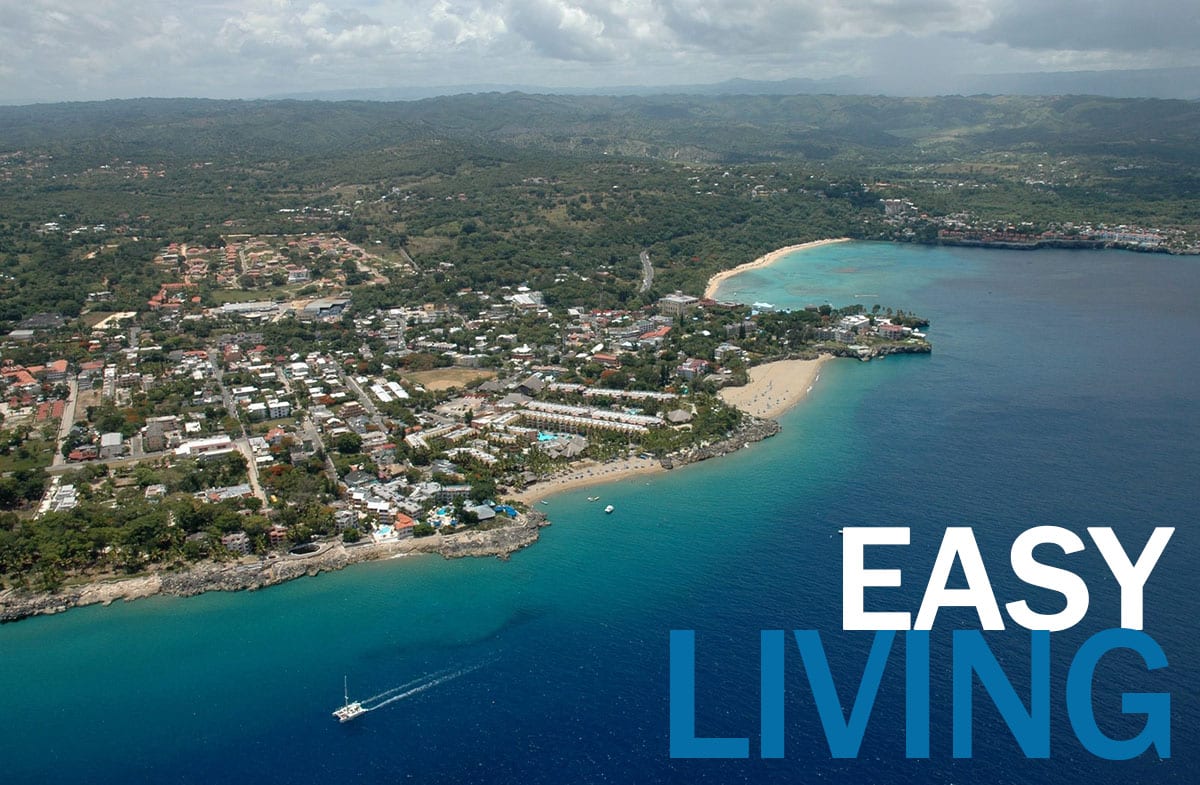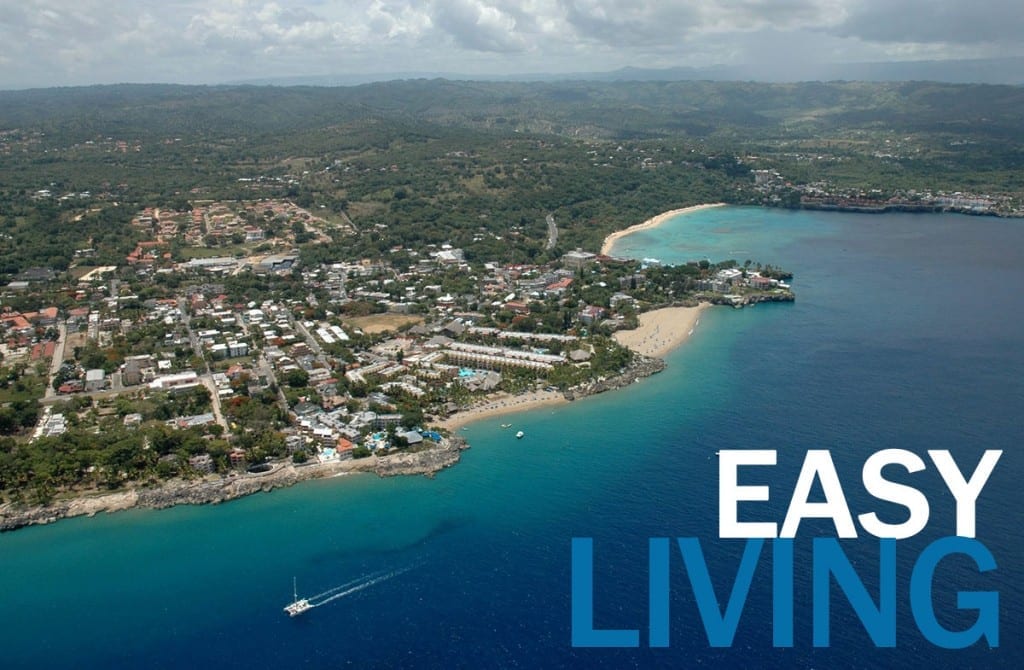 Recently, upgraded airports mean you can get to the Dominican Republic from the U.S. East Coast in two hours.
New highways have cut journey times out of the capital by half or more. No more getting lost down dirt tracks… or driving a painful six hours when you want to reach the opposite side of the island.
Best of all, this easier accessibility by both road and air has helped reduce day-to-day living costs. On parts of the island, food and grocery items have, over the last couple of years, fallen by as much as 30%. I can't think of anywhere in the world right now that can boast the same.
4. Big Push To Attract Entrepreneurs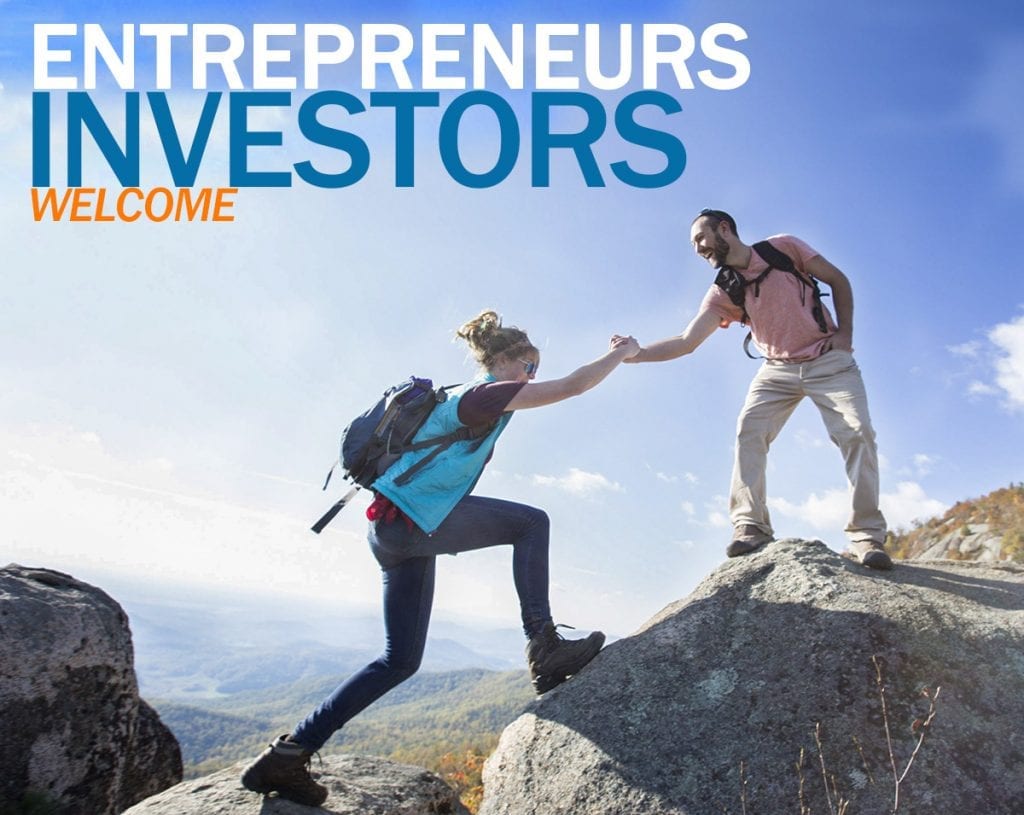 The powers that be in the Dominican Republic are enacting legislation, improving processes, staffing up key government agencies, and offering targeted investor, entrepreneur, and business incentives in an effort to attract the attention of foreign retirees, expats, and investors.
Foreign direct investment in this country continues to expand. More investor capital is flowing through the DR than ever in this country's history. All this capital is helping to reshape the economy and the country's future.
Meantime, user-friendly and fast-track programs make residency and second citizenship here among the most appealing options in the world right now. If you qualify, you can obtain a Dominican Republic passport in as few as 18 months.
In fact, Lief and I are headed to Santo Domingo in July to finalize our own DR naturalization paperwork.
Meantime, I'll share more from the scene of this week's Live and Invest in the Dominican Republic Conference through next week.
Watch this space.
Kathleen Peddicord