Don't judge a country by its food.
Or, at least, not by the first dish you experience.
On my first day in Portugal several years ago, I feared that the Mediterranean diet wouldn't be for me. The Portuguese seem to eat nothing but meat… and often in a hearty form.
Picture a lasagna of pork, chorizo, bread, and gravy and you've got yourself a Portuguese special.
When I ordered a veal appetizer, out came a bowl heaped with red meat—no additions or adulterations. (My best guess is it could only have been intended for multiple diners.)
Could I make it through the next week as a hardcore carnivore?
Now, I'm not usually a fish eater. But, hearing rave reviews about the local seafood, I figured that sea creatures were my best option for survival…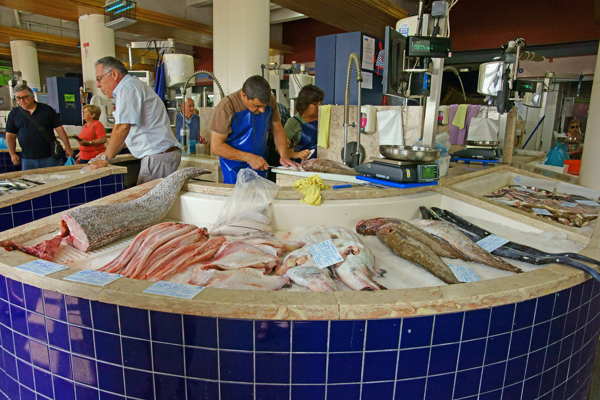 And I was pleasantly surprised.
In Portugal, clams, prawns, oysters, cod—they're all insanely fresh, tasty, and (just like my veal meal) presented with minimal tampering.
What surprised me more, though, was the tinned fish. Who'd have thought you could make tinned sardines, trout, and anchovies into a national treasure?
Comur—the national cannery chain—has shops all over Portugal (as well as its own factory museum) that manage to turn a mundane product into something weirdly fun and entertaining.
I was glad to have some vacation time to act the absolute tourist—especially on this, my first-ever visit to Portugal. But soon it was time to make my way down to Carvoeiro for our Live and Invest in Portugal Conference.
One of my favorite things about coming to conferences is catching up with past attendees…
And, on the first morning of the event, George White, who I'd met while MCing our Italy event last October, caught me to proudly announce that he'd not been back across the Atlantic since he last saw me…
George's Update
"I decided to stay on in Pescara for a few more days to see some real estate and just get a feel for the place outside of the classroom.
"Then I got into housesitting. I love all of Italy, but Sorrento has my heart. So my next move was to housesit there for a few weeks… until I realized I was about to overstay my Schengen visa…
"I had to fly to Scotland, where I stayed in a US$15-a-night Airbnb, just steps from the nearest castle and to the library where I could do some research every day.
"So that's what brings me here to Portugal. I need a visa that lets me stay here longer than 90 days at a time… because, apparently, I don't seem to be leaving anytime soon!
"I'm considering residency in Italy, but the bureaucracy is off the charts. From what LIOS tells us, Portuguese residency is much simpler and quicker to sort, so I'm here to get the details. Plus, the income requirement is about half in Portugal than it is in Italy…"
Portugal: The Former Powerhouse Of Europe
As one of the most unassuming countries of Europe today, it's easy to forget the power trip that Portugal enjoyed for centuries…
I've spent so much time in Spanish-colonial cities in my life, but I've still not been to Brazil. I didn't make it to Goa while in India either. And, until this first trip a few years ago, I'd never visited the motherland herself.
I returned from that first trip with a smattering of trivia on the country, her culture, and history. Turns out, modest little Portugal made some pretty astounding impacts that persist to this day…
The Portuguese were the first Europeans to stumble on Japan and the first to establish trade with it. Many Japanese words derive from Portuguese, though some of the most popular stories are questionable…
You might hear that obrigado, Portuguese for "thank you," gave the Japanese their arigato. That's nothing more than a fun legend.
But tempura-style cooking? Tempura comes from the Portuguese temporada—seasoned meat. That one's true.
It was a Portuguese explorer who was the first European to reach China by sea and to "discover" Hong Kong. Yet another Portuguese sailor—this one a pirate—soured relations with the Chinese, leading to an edict that banned men with Caucasian features from Canton, modern-day Guangzhou.
The name Canton stuck for centuries and comes from the Portuguese cantão, which was simply how the Portuguese mispronounced the city's original Chinese name. This flub—still honored by much of the English-speaking world today—ended up in the annals of history, printed on maps and in atlases used far and wide.
Kat Kalashian
Editor, Live and Invest Overseas Confidential