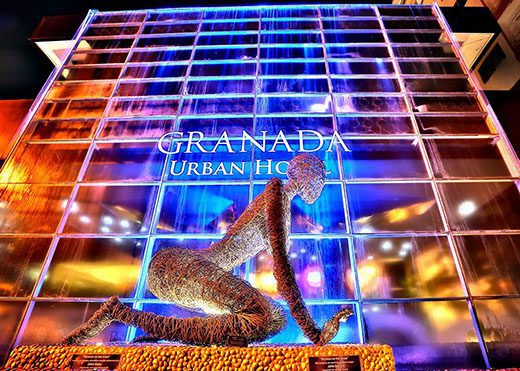 As a happy resident of rural Panama, I don't get into the big city too often. Partially by choice. Panama City can be a hectic place, with hordes of harried people and lots of traffic and a bustle that appeals to some but not to me. I prefer the peace and quiet of Mariato. When I do go in, however, I usually go straight to one neighborhood—El Cangrejo—and tend to stick close to it. The main reason is practical. The offices of Live and Invest Overseas and the people who help me put together this newsletter are located there, so I drive straight to a hotel a few minutes' walk from those offices and don't get back in my truck again until it's time to go home. The other reason I stay in El Cangrejo, however, is that it epitomizes urban life in Panama. The neighborhood itself is at once fascinating and infuriating, exciting and slightly intimidating. If I am going to go to the trouble of going into the city anyway, may as well go all-in on the city experience, right? All manner of people pop up in El Cangrejo. American retirees. Chinese shop-owners. Panamanian medical students. French backpackers. Cuban and Colombian hookers. This neighborhood has it all. It's never dull here. With its active nightlife of clubs, pubs, concerts, casinos, cafés, and theaters, there is a little of something for everybody here. I don't get a chance to savor the nightlife of the area much, but I hear all about it from the young staffers at the office. El Cangrejo, which translates to English as "the crab," is so named because the layout of its streets somewhat resembles the shape of a crab. It was founded in the 1950s by Jewish residents and at the time was the most modern and exclusive neighborhood in Panama City. It took on a much more diverse makeup in more recent years as the Jewish community relocated mainly to the Punta Pacifica and Costa del Este neighborhoods. The legacy of the Jewish community's impact in the neighborhood is epitomized in the many memorials to the great Albert Einstein in and around the area, including a giant statue of his head and both a plaza and a clinic named after him.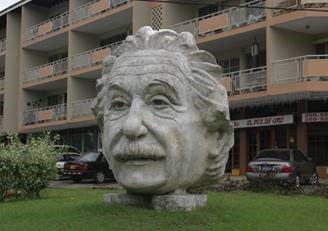 A lot of expats, both working and retired, call El Cangrejo home, and nowhere is that more apparent than at the New York Bagel Cafe, across the street from Einstein's head. Packed on the weekends, it's not uncommon to hear half-a-dozen languages here during the course of a lunch hour. The free Wi-Fi lures a lot of customers, and the large community bulletin board inside is full of advertisements and posters of rooms for rent, cars for sale, English or Spanish tutors, lost and found announcements, upcoming live music and theater performances, job postings, and just about anything else one can think of. An added bonus is the bottomless coffee, something I've yet to encounter at any other restaurant or café in Panama.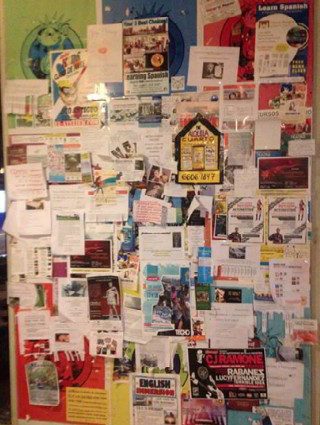 Gastronomic groupies will not be disappointed by El Cangrejo. Just as the neighborhood has a multicultural makeup of people, it also has a multicultural makeup of restaurants. Caribbean, Mediterranean, Venezuelan, Italian, Cuban, Peruvian, French, Mexican, Greek, Thai, Swiss, Lebanese, Spanish, Japanese, Chinese, American, and, of course, Panamanian cuisines are all within walking distance. For a dining experience that is sure to be unlike any other in Panama, check out Beirut on the other side of the Via España. Not only is the Lebanese fare here exceptional, with some of the best naan bread, hummus, and falafels I have ever tasted, but the entertainment is something to see. During the dinner service, traditional belly dancers perform from table to table, enticing patrons to get up and join them in their rhythmic routine. If you're looking for a good meal minus the belly dancers, El Greco across the street from the Veneto Hotel serves traditional Greek food such as salads, souvlaki, and pitas filled with your choice of meat. They also offer a great breakfast in the morning. Prices here aren't too bad, with chicken pita, french fries, and drink for about US$12. For more authentic Panamanian dishes, try El Trapiche on Via Argentina. Delicious sancocho (a traditional chicken and yucca soup), fresh seafood, arroz con pollo (chicken and rice), and beans are on the traditional Panamanian menu, and an added bonus is that the staff is super friendly. On Via Argentina, a mix of bars and pubs can be found. La Rana Dorada is a popular brew pub, with their own microbrews on tap offered at half price during their weekday happy hour beginning at noon until 6 p.m. Across the street from La Rana is Live, a karaoke bar for experienced and not-so-experienced singers alike. If you'd rather be entertained than be the entertainment, El Pavo Real has live rock-band performances every weekend. Some people say El Cangrejo is a red-light district. While this description is not technically correct, because prostitution is legal in Panama, it is true that El Cangrejo is somewhat of a magnet for the world's oldest profession. This peculiar aspect of El Cangrejo bothers some people, but usually for unfounded reasons. Some people may perceive prostitution to be synonymous with danger, but that is not at all the case here. El Cangrejo is actually one of Panama City's safest neighborhoods. Police are all over the place, especially on weekend nights, and the professional ladies tend to conduct their business behind closed doors instead of advertising on the streets as they do in some other parts of the world.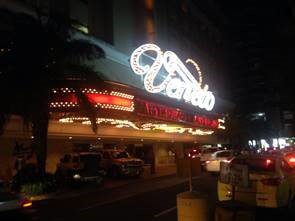 The Veneto Hotel and Casino by Wyndham Grand Hotels is a hotspot for the fast life in El Cangrejo. Roll the dice in the casino, test your bluffing abilities in the poker room, try their all-you-can-eat sushi buffet on Monday nights, or simply enjoy a cheap beer in the cavernous bar. I even spent one evening drinking some beer and smoking a cigar with some friends of ours while we watched the mating dance of the ladies of the night and their prospective suitors. Nothing scary or intimidating and there were lots of people there who were not interested in extra- curricular activity. In fact it took me a while to catch on! The Sin City aspect of El Cangrejo means the neighborhood is understandably not for everyone. But the rest of the neighborhood more than makes up for the faults of that single strip. For urban lifestyle and diversity, it is—for my money—the most interesting and accessible neighborhood in Panama City. Live and Invest Overseas' monthly Panama Letter did a lengthy report about El Cangrejo recently that is chock full of useful information about living in this eclectic neighborhood, including real estate prices, shopping options, and more. You can pick up back issues of the report and subscribe here. Have a great weekend. Stop in at our Facebook page for news and updates throughout the week as well as at accesspanama.com, where we are adding sections and great background all the time about the places to go and things to see here in the Hub of the Americas. Peg P.S. Save the date! We have finally pinned down the dates for next year's Live and Invest in Panama Conference for June 8–10, 2016. Registration isn't open to the general public yet, but loyal readers of In Focus: Panama are most certainly not the general public. You get to move to the front of the line. So, beginning today, if you sign up early you are guaranteed a seat at the table and as an added bonus get a completely free VIP Package. If you want to join us in Panama next June as a VIP, claim your seat and VIP Package now. Plus, use the special In Focus: Panama Coupon Code PTY50 when registering to knock $50 off the cost of registration. These events almost always sell out pretty quickly… so don't wait too long. We all hope to see you there.