The mountain town of Boquete in Panama's Chiriquí Province is home to one of the world's biggest communities of expat retirees, here you can say goodbye to culture shock and enjoy a soft landing into expat life.
The district of Boquete comprises six townships or corregimientos: Bajo Boquete (Lower Boquete), Alto Boquete (Upper Boquete), Caldera, Jaramillo, Los Naranjos, and Palmira.
The district has a population of just over 20,000 and about 5,000 are expats. From events and festivals to meet-ups and clubs, you'll have no difficulty getting and staying connected with your fellow expats. Nearly everyone speaks English, making the transition to life abroad a breeze.
Bajo Boquete sits at the lowest point in the valley and is the district's center. When people refer to the town of Boquete, they're really talking about Bajo Boquete.
Boquete means "gap" in Spanish—a fitting name for the highland valley nestled within the skirts of the Cordillera Central (Central Mountain Range).
The cordillera's highest peak, Volcán Barú (Barú Volcano), towers over Boquete at an altitude of 11,401 feet (3,475 meters) and lies only 12 miles (20 kms) from the town center.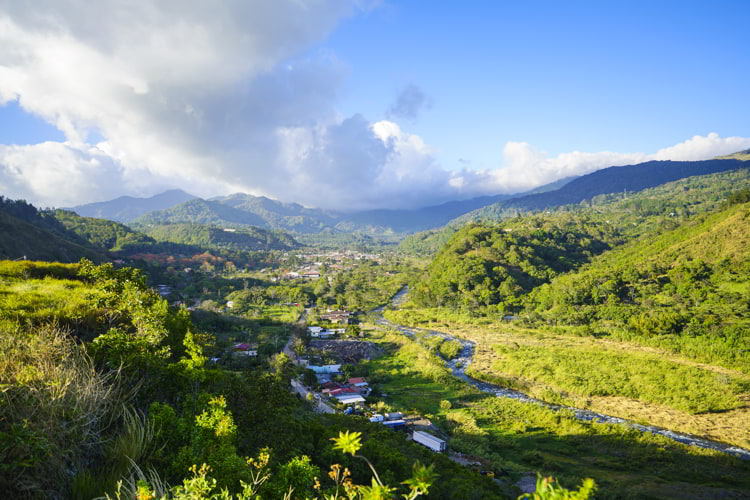 Boquete offers spectacular views of the volcano on sunny days, the Caldera River flows through town, and the streets are draped with flowers of every species and color. Artisanal markets line the sidewalks, where locals sell their produce and crafts.
In addition to natural beauty, most expats cite the weather as their motivation for moving to Boquete.
Far from the heat and humidity of Panama City, temperatures in Bajo Boquete typically hover in the low- to mid-70s Fahrenheit (20s Celsius) during the day.
The climate and volcanic soil here are ideal for growing all kinds of produce, plants, and flowers. Chiriquí's economy is built on agriculture, and in Boquete there's a good selection of local fruits and vegetables available year-round.
With such an established expat population you'll find most all your needs met here. There's eateries of every nationality, trendy bars and nightlife locales, medical clinics, massage studios, beauty salons, grocery stores, and every other necessity and convenience you could want nearby.
You could thrive in Boquete without ever learning any Spanish. It's the only destination in Panama where this is the case. The majority of the area's expats are anglophones, and almost everyone working in the service industry—in hotels, restaurants, tour agencies, grocery stores, etc.—speaks English proficiently.
The Cost Of Living In Boquete
Though the cost of living is rising rapidly in Boquete, it's still generally more affordable than the United States and Canada.
A couple should be able to live comfortably here on a budget of US$1,300 a month, if they own their home.
If you're looking to rent, a two-bedroom, 80-square-meter apartment in Bajo Boquete typically runs about US$1,500 to US$2,000 a month. These are usually furnished spaces, as unfurnished apartments are uncommon here.
Contracts run from six months to a year, and the lessee pays the first and last month's rent and a security deposit upon signing.
The real estate market is on the rise, and if your dream is to own a home here, you might have only a few years left to make your move as Boquete is undergoing a real estate boom.
A new, private community is being developed here. Set to be the first luxury country-club resort in the area, the development is next to a river canyon on one side and an equestrian club and health spa on the other. This pre-construction project will be completed in phases; phase one will have 34 units. Prices start at US$305,765.
When it comes to day-to-day costs, expect to spend about US$25 to US$30 on a meal for two with drinks at a mid-range restaurant. Take away the drinks and it comes to approximately US$18.
At a local bar you'll pay about US$2.50 for a domestic beer and US$4.50 to US$5 for a craft variety.
If you buy your groceries at either of the two more affordable supermarket chains—Romero and Súper Barú—you'll likely spend US$150 to US$200 a month.
Orgánica is a Whole Foods-esque chain selling healthy, specialty foods like grass-fed beef. Shopping here will put a bigger dent in your wallet, but you'll have access to a variety of nutritious products.
On the flip side, you can reduce your grocery bill significantly by purchasing locally grown produce. Stopping by the Boquete Tuesday Market to stock up on fresh fruits and vegetables is a convenient way to do this.
Household help is available here, and residents typically hire maids to deep clean their homes once or twice a week. This will set you back about US$25 a day, totaling US$200 monthly. You'll pay about US$300 a month for full-time maid service.
You'll find a few public and private health clinics in town. The preferred choice among expats is the Clínica Especializada del Dr. Chen, which is private.
When I had an allergic reaction to coffee fly bites I went to the Clínica Especializada. There was no wait at all, and they immediately took me to a private room and gave me an antihistamine through an IV. Within an hour, my symptoms were gone and I was on my way out the door.
I was impressed with the high-quality care I received and the warm bedside manner of both Dr. Gomez and the nurse. Expats here say Clínica Especializada is the preferred health care facility in town.
A general appointment at a private clinic costs between US$20 and US$50.
Safety In Boquete
When in Boquete, use the same precautions you would anywhere… don't leave your house unlocked, keep valuables out of sight, don't walk with your cell phone in your hand or back pocket, and stay alert and aware.
That said, Boquete is a safe and peaceful town. Violent crime is essentially unheard of, and offenses are limited to random petty thefts.
When hiking, choose trails that are clearly marked and don't stray off them—it's easy to get lost in the jungle and this poses a real danger. It's best to always take another person with you.
Life In Boquete
Bajo Boquete is the most walkable destination in Panama. It's certainly more pedestrian-friendly than the city.
Drivers here yield to pedestrians and drive slower and more courteously than in other areas.
Sidewalks tend to be unreliable—in some parts of town they're smooth and well-paved while in others they're nonexistent or crumbling. It appears that the government is working to improve the walkways.
Boquete is a paradise for outdoor enthusiasts, nature lovers, and anyone looking for an adventure-filled lifestyle with new activities to try each day.
Gardeners and those interested in agriculture will find satisfaction in the climate and rich, nutrient-filled soil.
The climate here is perfect for those who dislike extreme heat, cold, and humidity, and who enjoy mild weather.
Digital nomads will be impressed with the Wi-Fi and infrastructure quality while the tourism industry here provides endless opportunities for the investor and entrepreneur.
It's also a safe, peaceful, healthy, and enriching place for those who appreciate the familiarity and support of a large expat community.
Truly, there's something for everyone and every interest in Boquete.
Sincerely,


Gabrielle Wells
Contributor, Panama Letter