It's never too late—or too early, for that matter—to take on a new hobby. When I moved to Panama, I promised myself that retirement was going to be a new chapter (one of many to come) in my life and not a final one. Rocking chairs and shuffleboard were not part of my plan. Travel, giving back, and personal growth were.
To that end, I've dove into a number of side projects since arriving. I tutor my neighbor's children. I'm learning the ins and outs of property sales through my work at the burgeoningLos Islotes. I'm learning a new language. There are as many opportunities for self-enrichment in Panama as there are imaginations here.
One of the ones I keep hearing about and steeling myself to try is, believe it or not, surfing. Why not, right? What's not to love about the possibility of spending a day at the beach, alternating between relaxing on the sand and rushing headlong through the waves with whitewater on your tail and blue glass before you? Besides, when our new home is completed sometime next year, one of the finest surfing beaches on Panama's Pacific Coast will be right at my doorstep.
Panama has yet to become the worldwide mecca for surfers that Costa Rica is, even though its Pacific Coast waves often are on par with those of its neighbor. But that's a good thing. That means the waters are much less crowded than Costa Rica. It is, however, starting to attract more and more attention on the surfing stage and has even hosted a couple of international competitions in recent years.
Santa Catalina and the rest of the Azuero Peninsula, especially Playa Venao on the southeast coast, get most of the attention from surfers in Panama, but those spots are probably a bit ambitious for folks like me who are just dipping their toes into the water. The place to get started is most definitely the City Beaches west of Panama City. There are schools to help you get your bearings, the swells are usually smaller and less intimidating, and the accommodations for those who are spending more than a day at the beach are not quite as rustic as they are at out-of-the-way spots on the Azuero Peninsula.
The best time for surfing the Pacific Beaches is generally April to June, when offshore winds kick up fairly consistent swells. In some places they can actually get too big for beginners that time of year. During the November-to-April dry season ("summer" in Panama parlance), the winds are generally lighter and the waves slightly calmer.
Surfing neophytes will likely want to head straight to Playa El Palmar, outside the town of San Carlos and about 10 kilometers west of Coronado. Because it's only about an hour and a half from Panama City, it's a popular place and can get crowded on the weekends, but weekdays you won't find much competition for the waves. There are even a couple of schools at Palmar—Panama Surf School among them—where for US$60 a pro will help you get up and dropping into the faces in no time (in a two-hour private lesson).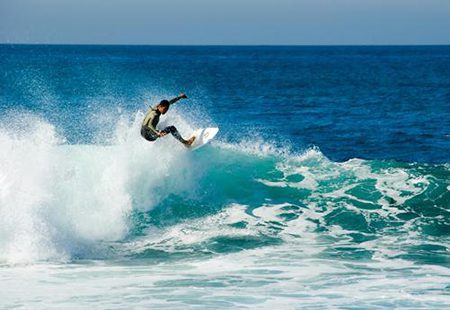 One of my colleagues here at Live and Invest Overseas, Ines Messing, is an avid surfer and actually settled here in Panama partially because of the consistently great waves. She tends to spend most of her weekends out at the beaches and recommends these spots in the City Beaches area.
Frente El Palmar (The Palmar Front): This a beach break with a nice, soft sandy bottom for those times you inevitably tumble from your tabla (Panamanian Spanish for surfboard). Beginners will want to check here first, especially on a low to medium tide, and dive right in if the swells are there. The rides can be short, but fun.
Punta Palmar (Palmar Point): If the tide is high, head for this spot to the right of the beach break. It's a rocky bottom and the swells can be larger than the front so beginners may want to tread lightly here, but those with experience will appreciate the powerful waves here.
Hawaiisito (Little Hawaii): This is Ines' favorite break in the Palmar area because it's often less crowded than the point or the front (especially on weekends). It's also a rock bottom and ideal when the swells are around four feet or less at high tide. (Hawaiisito is adjacent to one of the developments we visit on our Access Panama Property Tours).
Playa Rio Mar: Further west down the road from Palmar is Playa Rio Mar, where two breaks dominate—the Frente Rio Mar (Rio Mar Front), a beach break that goes both left and right, that is best at medium to high tide, and Punta Rio Mar (Rio Mar Point), about a mile down the beach, near a long rock ledge where the waves break predominantly at low tide.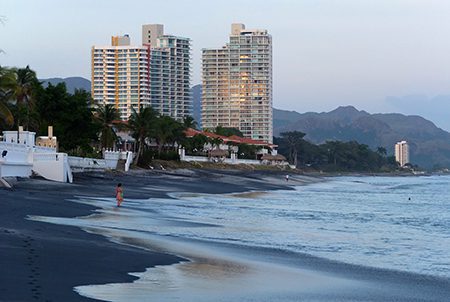 Playa Malibu: Back in the direction of Panama City near the town of Gorgona is one of the best and most consistent spots in the City Beaches. The waves break to the right along a sandbar at the mouth of the Chame River. Look for some lovely tubes here on a good day, but beware of debris in the water drifting out from the mouth of the river (especially after a heavy rain).
Playa Teta: Another river-mouth spot, also near Coronado, the main attraction here is the long lefts at low tide at the front and the tubes and long rides on incoming tides at the point. Nearby Rinconsito, named after a famous break in California, is known for a right break that can stretch as long as 200 yards under the right conditions.
See you at the beach!
Peg Fairbairn